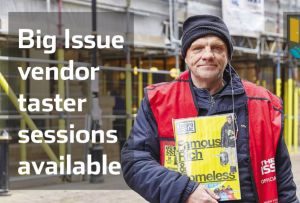 The Big Issue Foundation in Birmingham are jointly working within the No Wrong Door network by offering taster sessions to people who are interested in becoming a Big Issue vendor. They offer individual support to get anyone who is facing poverty and exclusion the opportunity to be license to be a legitimate vendor.
No Wrong Door is a key delivery strand of the Big Lottery Funded Birmingham Changing Futures Together, a partnership being led by BVSC.
No Wrong Door is a group of organisations working together to help and support people with complex needs. No Wrong Door ensures service users can access a whole system of support through one referral.
No Wrong Door is specifically for service users who have multiple and complex needs. Service users referred through No Wrong Door must have at least two of the four complex needs:
Homelessness
Addiction and problematic substances misuse
Risk of reoffending
Mental ill health
The Birmingham team also have their own 'expert by experience' an ex Big Issue Vendor who will offer their selling expertise or guidance if needed. Sessions last around 1-2 hours and can be flexible on making sure the referral happens.
Jordan Holton, BVSC Worker says: "I hope that working in Partnership with The Big Issue will raise more awareness of the amazing work the service does – there are so many ways it supports people to grow, people just need to scratch beneath the surface of what they expect it to be about. Giving people a taste of what The Big Issue can offer will hopefully open the door to so many more opportunities for individuals who need them most."
The Big Issue Foundation's mission as a UK charity for people experiencing social and financial exclusion, is to connect vendors with the vital support and personal solutions that enable them to rebuild their lives; to determine their own pathways to a better future. We are so happy to be supporting such a great initiative, aimed at helping people with complex needs to achieve their aspirations and make their own vision of a 'fulfilling life' a reality.
If you would like to find out more information about Birmingham Changing Futures Together and the No Wrong Door Service, please call the team on 0121 236 1936.