A new petition has been launched to bring an end to the Vagrancy Act.
Homelessness should not be a crime. But the Vagrancy Act, which goes back to 1824, makes it a crime just to sleep rough or beg in England and Wales. It remains in force in England and Wales and it is still used today. Anyone found to be sleeping in a public place or trying to beg for money can be arrested.
The Vagrancy Act does nothing to resolve the root causes of homelessness. In fact, it's more likely to push someone further from the vital services that help them to move away from the streets.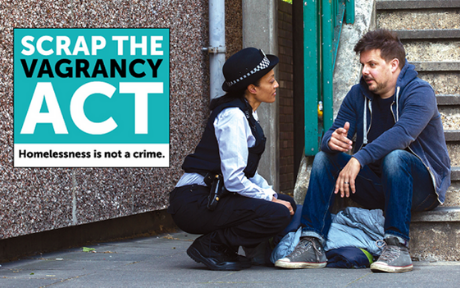 That's why we're supporting this petition calling on the UK Government to #ScraptheAct once and for all.
The petition has been started by Karl who was previously arrested under the Vagrancy Act when homeless.
"In 2008 I asked someone for 20p to make a phone call. I was arrested on the spot for begging. A night in the cells, a trip to court and a fine later, I was sent straight back to the streets. No actual help was offered."
You can read more of Karl's story here.
Karl also said: "The Vagrancy Act is no more than a form of pest control of the poor, treating thousands of people as vermin needing removal.
It's hard to explain the horror of sleeping rough and the difference it makes to be treated with dignity. But having a law that criminalises homeless people legitimises the stigma and discrimination they face."
A debate on homelessness in the House of Commons on 29th January saw many MP's support scrapping the Vagrancy Act.
Robert Jenrick, Secretary of State for Housing, Communities and Local Government, said:
"We are fortunate to live in a country that is widely and rightly regarded as one of the most fair, prosperous and advanced in the world. It is, therefore, a serious moral failure that we still have people sleeping on our streets and struggling to secure something so basic as a roof over their heads."

In regard to the Act and its impact on the homeless community, he said:

"…we are reviewing the Act; we are very aware of that and want to see it changed."
The petition is currently trying to reach 10,000 signatures before being delivered to Robert Jenrick call on the Government to Scrap the Vagrancy Act. Please support the petition and sign today.