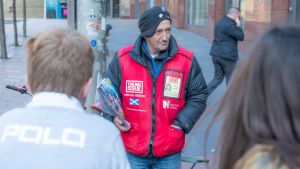 We are saddened to report that Paul Kelly, a much-loved member of The Big Issue family, has died in tragic circumstances.
The ever-popular man, who sold The Big Issue in Glasgow city centre and in East Kilbride, was the victim of a violent attack on the morning of June 15. He was found outside his home in the Knightswood area of Glasgow. Emergency services were called but Kelly died at the scene.
Police charged Glasgow resident Jason Cowan, 46, with Kelly's murder. He entered no plea when he appeared at Glasgow Sheriff Court on June 18 and was remanded in custody.
"We're devastated," said The Big Issue editor Paul McNamee. "He was such a sweet man. We talked a lot, many times a week, just putting the world to rights. He always had plenty to say.
"His father died not so long ago and he had a bit of a tough time with that. But he met it and he liked to talk about him and reminisce.
"Paul was both tough and really gentle. He was such a part of The Big Issue, such a part of Glasgow city centre. He talked about the good people, the regular customers and friends he had who looked out for him. Everything is a bit darker and quieter just now."
Kelly, 50, was part of The Big Issue for more than 15 years and was known for shouting his catchphrase, 'Don't be shy, give it a try. I don't bite' on his pitches. As well as his Glasgow pitch, he was outside Marks & Spencer in East Kilbride town centre, until he recently took up a spot at St Leonards Square on Sundays.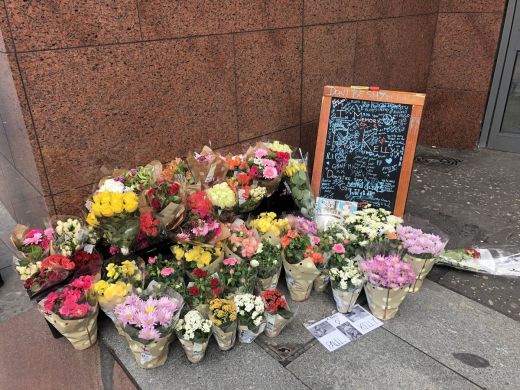 Flowers have been left in tribute to Paul outside Sainsbury's on Buchanan Street where he frequently stood.
Rhys Corley-Morgan, sales and operations manager for The Big Issue Scotland, said Kelly was much-loved.
"Everyone at The Big Issue is extremely shocked to hear about the death of Paul on Saturday morning. He will be missed by all of the staff who worked with him and all of his customers in Glasgow and East Kilbride. He was a kind-hearted person who was a friend to everyone he met", adding that it has "been very difficult to hear that somebody would want to cause him such harm".
"The thoughts of everyone at The Big Issue are with his family in the most difficult of times."
A memorial vigil is to be held next week with details to follow shortly.
Words by Hannah Westwater