I'm running the London Marathon for Big Issue Foundation because big issue vendors are always awesome!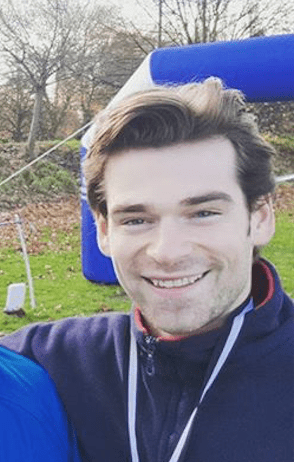 I have passed a big issue hero who works at Clapham North Tube at least twice a week for the last 3 years… and I have no idea what his name is.
Day in, day out he's there smiling. Not just glazed over looking into the middle distance, but making a real effort to make a connection with every person that walks passed.
Relentlessly. Rain or shine. Just somehow chirpy.
I walk up to the tube barrier, grumpily. I'm grumpy because I've got GODDAM fluff stuck in my goddam iPhone charge socket! AGAIN!
I tap out thinking about my next upgrade, when the big issue hero makes direct eye contact with me, smiles and says "alright mate".
I wait for the usual cocktail of irritation and guilt to brew in my stomach…. here it comes… yup anndddd…
It doesn't come.
Wait, what?
I feel… Actually I feel a bit more chirpy myself. "Hello mate, how are you?". That was weird.
"How's your day been?"
This is dangerously close to an actual conversation now. I'm bailing.
"Here's 3 quid. Keep the change!".
I fluster off back to my warmly heated home, while he just smiles warmly at me.
Since then I have not mustered up the sense of mind to actually have a full conversation with him. In 3 years.
But I should tell him how much respect I have for what he's doing. His jovial outward demeanour in the face of something that would most likely make me crumble.
He's a big issue hero, and I've seen many others like him throughout London. That's why I'm running for them.
The London marathon is looming ever closer!
As part of my raising donations for the Big Issue Foundation, I'm going to do 1 bad celebrity impression per week on my long runs. See if you can work out who I am below and if you want to see more breathy, dubious celebrity impressions please donate in the link below (literally no amount is too small) and comment who you'd like me to do next. Sponsor me here https://www.justgiving.com/fundraising/ranulf-kinloch-jones
---
Join our cheer squad
We're looking for enthusiastic cheerers for The Big Issue Foundation's cheering point at London Marathon on 22rd April 2018.
We will be cheering around Shadwell/ Limehouse, and you will be required from around 10:00am – 2:00pm, although you may be finished earlier than this. TBIF have a small but strong team of 8 participants running. Sign up here if you're interested!