SKYDIVE CHALLENGE PART 2
We arrived at the airfield at 8.45 feeling excited with a tinge of nerves. Mum – here to spectate, Lucy (my sister) and I went into the hangar and 'checked in'. We decided on a whim that we ought to get the video and pictures, after all it was going to be an amazing experience! We were then taken through to the training space and Simon talked us through how the parachute worked, explaining how safe it was, that there were a number of fail-safe's and that it has an 'MOT' regularly – I was convinced I was in safe hands. We then got called to meet our partner for the jump and got dressed in our jump-suits. My guy Ed was lovely and almost as chatty as me! I also met my camera man (starting to feel a bit like a movie star at this point!) Steve – he was fabulous and as we walked to the plane he started filming (it sort of felt like the moment in Armageddon where the guys all come out of the hangar in their jump suits in slow-mo….!). We were really going to do this!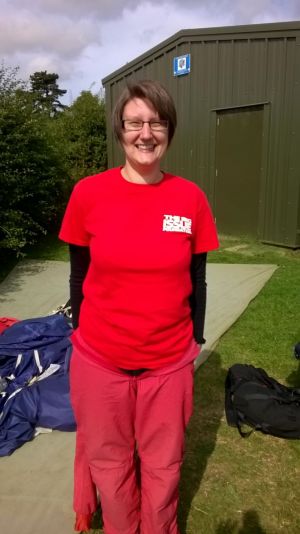 Once inside the plane I felt this incredible peaceful feeling, my thinking almost completely stopped and I just connected with an amazing sense of being totally OK. We each had to slide onto the benches in front of our partner and during the flight our harnesses were tightened and I was then clipped to Ed – no getting out of it now! Next my cap was on – very fetching of course. The plane hovered at around 6000ft and we were sitting for a few minutes awaiting clearance for us to ascend to 12,500 ft. Goggles on! And then before we knew it the door was opening and bodies were just dropping out! Lucy disappeared before I even realised what had happened and then Ed was sliding along the bench. This was it!!!
Ed sat on the edge of the plane, pulled my head back toward him, and told me to tuck my legs underneath the plane……all I could see was sky and, although I kept trying to look down, Ed kept pulling my head back into position and we were out the door…gambolling through the air and free-falling. Steve was slightly beneath us, filming as we fell. I kept my mouth clamped shut as I was really dry-mouthed. We spun and dropped and spun some more. And then our parachute opened (I presume Ed did this but I had no idea what he was up to behind me!) and we gently drifted into an upright position. And my heart nearly stopped – I was just grinning and laughing, looking down and all around, at total peace with the incredibly feeling of floating. It was so quiet, Ed and I were chatting a little, I was giggling like a maniac, and at one point he, sarcastically, said "you are not enjoying this at all are you?" to which I replied "Enjoying isn't the word, I don't have the words for this feeling". For a few minutes I took over the parachute and twisted us right, left and straight again. Then Ed took the driving seat and swooped us down and round making my tummy jump. He pointed out Lucy, beneath me, and the airfield where I could just make out the tiny dot that was Mum. I was feeling exhilarated and so peaceful, happy and light. Sooner than it felt fair to be, we were on our way to landing – we had practised this before-hand and Ed asked me to lift my legs and feet and gently, gently, gently, we were touching down.
Lucy had already landed and after a moment, where Steve filmed my excitement and I hugged Ed, Lucy and I were laughing, crying and hugging. Just utterly incredible. No-one has yet invented a word to explain how the whole experience feels. But honestly, the only way you can know is to try it. Mum jumped in for a hug with us then and we were off to return our jump suits. I saw my parachute being packed away, had another hug with Ed – what a star, he definitely made the experience amazing – and then we collected our video & pictures.
We were so awed at our experience that we had to sit in the space with the other jumpers and just breath in the moment before we could leave! A truly wonderful, amazing, fantastic, unbelievable, unforgettable day. So when can I do it again?
In total I have raised £629.47 for the Big Issue Foundation which I am thrilled about!
If you would like to see more of the challenges I get up to please visit www.beccywarrior.wordpress.com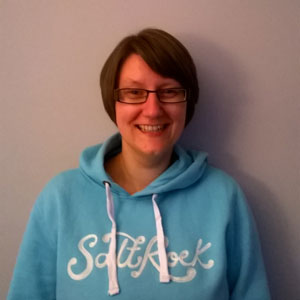 SKYDIVE CHALLENGE PART 1
Around March this year I started an online blog to share details of a course I was doing – The Warrior Journey – which was all about learning to love yourself and discovering who you really are by understanding your own thinking. As an element of this I was taking part in challenges, these challenges might have looked small to the casual observer, but they really made me stop and think at times. When the 90 day course finished I carried on challenging myself and my sister, who had also done the Warrior Journey, came up with the challenge of doing a skydive! This really ought to put my thinking to the test!
I read a book about a year ago – you have probably heard of it; A Street Cat named Bob by James Bowen – and it gave me a real insight into the work of the Big Issue. Since reading it, I have been more aware of vendors and have started buying the Big Issue regularly. I really like the philosophy of 'hand up, not hand out' and for this reason I chose the Big Issue Foundation as the charity to raise funds for.
Once I had decided I was doing the skydive I set about trying to raise the funds – with a minimum of £400 as my target – the challenge was on! I had in mind the people I would ask for money; some people who I had known a very long time, some more recent friends, family of course and, since this is all about challenges, even some people who I felt unsure of. I have been surprised by the people who have generously given of their hard-earned cash and I have particularly enjoyed sharing the reason I chose the Big Issue Foundation. It feels really great to be able to raise awareness for such a deserving cause.
I am feeling a mixture of nerves and excitement about the skydive. Nerves because, well lets face it, I am jumping out of a plane, thousands of feet in the air. Excitement because I anticipate it being a real rush, a feeling of flying & freedom, and of course a huge feeling of achievement at the end. The sense of having done something so challenging and at the same time raised money and awareness for a great cause will be a feeling I may not be able to top – at least until the next challenge comes along!
The skydive is booked for Wednesday 19th August – if you would like to sponsor me please visit www.justgiving.com/beccywarrior.
Look out for Part 2 where I will share how the experience went!
"Minds are like parachutes – they only function when they open" – Author unknown.
If you would like to know more about my Warrior Journey, and my continuing challenges, please visit my blog www.beccywarrior.wordpress.com