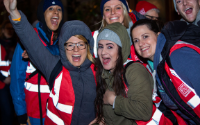 Registration for The Big Night Walk 2020 is now open!
Join hundreds of people on Friday 6th March 2020 as you take to the streets of London for a Friday night out with a difference. Registration is now open so sign up today for this unique and memorable event!
The Big Night Walk was founded in solidarity with rough sleepers who often find it safer to walk during the night rather than bed down on London's streets, and offers participants the opportunity to see the iconic sights of the capital in a whole new light.
During this eye-opening experience, you'll hear personal insights from Big Issue vendors, past and present, to get a sense of what a genuine difference you're making by taking on this event.
Check out the video of the 2019 event below to see some of the highlights from the event and get inspired to join us next March.
"It's a challenge to complete the walk, but it's also a very memorable, insightful and enjoyable experience! Join us and you'll see your capital in a whole new light, hear eye-opening stories from Big Issue vendors and know that you're supporting the fight against poverty and homelessness." Stephen Robertson, Chief Executive, The Big Issue Foundation.
The registration fee for the event is £25 and we ask that you try to raise £250 to support Big Issue vendors. Our dedicated events team will be with you every step of the way, with fundraising ideas, tips and resources to make your fundraising as easy and enjoyable as possible.
The money raised from this flagship event will go towards ensuring Big Issue vendors like Michael have the opportunity to take positive steps away from poverty and exclusion. The Big Issue Foundation's team of service brokers work with vendors to offer bespoke inclusive and non-judgemental support, such as housing, healthcare or supporting vendors to reconnect with friends and family.
Don't worry if you'd like to sign up on your own, we open registration earlier on the night for solo walkers so that you can form a group to walk with.
We would love to have you on the team so if you have any questions or would like any more information get in touch with the Events team on events@bigissue.com or 0207 526 3456.