A sunny summer vibe crept over London this May Bank Holiday weekend and for me the good weather not only signals that summer is coming but also that festival season is here!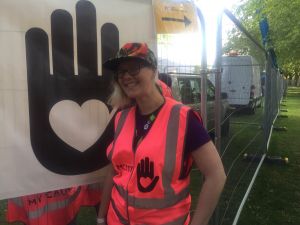 There is something I love about the atmosphere at festivals – everyone coming together to have a good time and celebrate live music. For the length of the festival, it doesn't matter who you are or where you're from, you are all connected by wanting to support the music you love.
I go to the same festival every year but I thought this year I'd like to get out to some different events and check out some other music. That's when I found out about My Cause UK. They organise volunteers for live music events up and down the country and in return for your service not only do you get free entry to the festival after your shift but they also make a cash donation to a charity of your choice!
At the weekend, I volunteered at All Points East in London and had a brilliant time. It was really easy to sign up and My Cause kept me up to date via email with all the latest information.  We got sent really clear arrival instructions before the day and also a breakdown of what to expect.
I was a bit nervous as I went on my own but actually lots of people where there by myself and once I signed in I was chatting away to lots of other volunteers. The volunteer headquarters had tea, coffee and biscuits and we were also all given a packed lunch.
After everyone arrived, we split into groups for the different tasks for the day. We got a thorough briefing about what we would be doing. I was helping direct people from the tube station to the festival. It was a super fun day where I got to know other volunteers as well as chatting to people heading to the festival all day. There was such a great atmosphere, and everyone was so friendly that the day actually flew by really quickly.
We finished up by 6pm and then got to head into the festival and enjoy the bands for the rest of the day! It was a really great experience and felt good knowng The Big Issue Foundation would get a donation too! I'm tempted to sign up for another event this summer!
Find out more about volunteering with My Cause UK here! They currently still have spaces available for several events in 2019 including British Summer Time, Boomtown and NASS Festival.
Festival volunteering not your thing? Check out other ways to support us here!