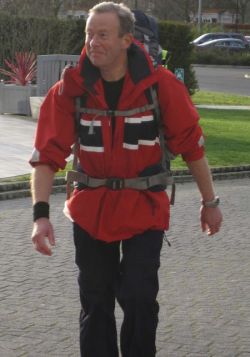 I began volunteering with The Big Issue last October.  I had seen an advert asking for volunteers while I was working on the Olympics in London and was looking for an opportunity to join an organisation that worked with people.  When I applied I had no idea how much I was going to enjoy the experience, how much I would get out of it and how many good people I would get to know.
Although I was happy to help out in any way that I could, for me, the best thing about being a volunteer was beginning to get to know the vendors, either when they came into the office to buy mags or when I was in town doing pitch runs.  I was in the Army for over 30 years and I have worked alongside and come across all sorts of people, some nice, some not so.  I learned that everyone is an individual with a different story to tell and that you can't judge people by appearances.  Getting to know some of vendors (definitely in the nice category) reminded me of that, but also of the fact that sadly, some people today are too quick to pass judgement on others.
I had intended to remain a volunteer until at least the summer, but a job came up that I just had to apply for.  I'm now working in Exeter as the Regional Director (South West) for the Army Benevolent Fund, The Soldiers' Charity.   Its early days, but I'm pretty sure I'm going to enjoy it – and I've already found a vendor near the Cathedral to buy my Big Issue from.
Volunteering was a really special experience.  I met people that otherwise I would not have and I learned from them.  To paraphrase the old saying, I got out more than I put in.  Importantly, I always felt that my contribution was valued.  From day one I was made to feel a part of the team by the staff and I knew that my efforts were appreciated by staff and vendors alike, so I always looked forward to coming in.
So, to all of you, vendors and the office team, thank you for being so friendly, thank you for being willing to chat about all sorts of stuff, thank you for your comradeship when it was a bit cold and a bit wet, and to many of you, thank you for correcting my rubbish arithmetic so that the till wasn't down when I got back to the office!  Thanks also for my leaving card and the nice words in it – I really appreciated it.  I'm sorry if I didn't get the chance to say goodbye in person, but take care of yourselves and stay safe.