Robyn Mather Volunteer Co-ordinator in Bristol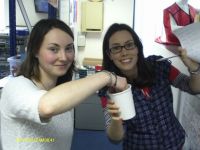 I had never done any volunteering before joining the team in Bristol. But after being shown what to do by the staff, it was easy to pick up and a really great way to start volunteering. Working with the vendors is always interesting, as you get to know a group of people that you wouldn't usually meet. It's always nice to go on outreach and see how they are doing on their pitches and to have a chat about how things are going. A lot of them are surprising characters, but in a good way.
Volunteering at the Big Issue has also given me a wide range of skills that I wouldn't have had the opportunity to develop otherwise. As a volunteer coordinator I've been responsible for recruiting, interviewing and inducting volunteers. It's a good environment to learn these skills in as the staff are always there to help you out and show you how things are done, and then you can have a go when you're ready. It's a really encouraging environment and the staff are always willing to help you pursue your interests where possible. I've enjoyed my time here so much I have even focused some of my university work on the Big Issue. I'm really sad to be leaving the office soon as I'm moving away, but I am definitely going to volunteer somewhere else as I've had such an amazing experience here!