After The Big Sleep Out 2017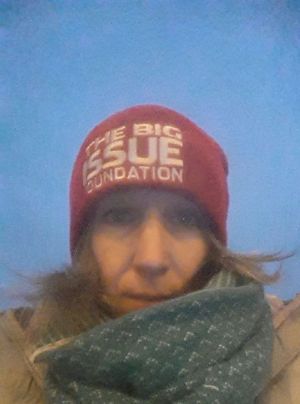 The night before the Big Sleep Out I woke abruptly in the dark with an urgent thought: Where will I put my boots? Sleeping outside is one thing; sleeping outside in public was a completely different prospect.
Of course my worrying was unnecessary. From the moment friendly red-hatted volunteers met me at the gate to the Kia Oval, I knew I was going to be ok. We had an interesting panel discussion with Big Issue vendors, delicious parsnip soup and a preview of a film about people sleeping rough. This part of the evening took place inside and as I'd arrived all layered up ready for sleeping out I got a bit too hot!
Later, I got chatting with one of the vendors who'd spoken on the panel, and among other things asked him what he thought of these events, how useful are they to give you any idea of what's like sleeping on the streets.
"Well, they give you a bit of an idea," he said, "But it's safe here, and it's safety not the cold that the biggest problem."
I went to lie down between two rows of seats on the stands. (Of course we weren't allowed on the pitch!) I'd got some cardboard, a sleeping mat, a sleeping bag and layers and layers of clothes on, including my warmest hat. I tucked my boots down beside me, put my head on my rucksack and looked up at the cloudy London sky.
The city haze reflected onto the clouds making the sky a yellowish colour; hardly dark at all. I could hear traffic noise, sirens, the sounds of people around me shuffling. But I was tired and knew I was safe and soon fell asleep.
I woke with cold seeping in round my neck and feet. The sky had cleared and it was darker now, before dawn. I needed to pee but I wasn't going to get up into the cold if I didn't have to. I just lay, feeling the ache in my hips and shoulder, listening to the endless traffic.
Getting up, weary and chilled, I put my feet into my cold boots, wrestled my sleeping bag into its stuff sack. It wasn't yet six. I was tired. I wouldn't want to have to live like this every day. Never getting enough sleep, always alert for trouble. Everyday things like going to the toilet, having a hot drink, getting a wash, being a relentless hassle.
I said goodbye to the lovely volunteers and staff who'd supported the event and went to get the bus to my friend's house. It was still early. The long hours of the day stretched ahead and I was already looking forward to my bed at the end of it.
Rosie was one of our solo participants at The Big Sleep Out and also our top individual fundraiser. 

Fundraising for The Big Sleep Out 2017
Late one afternoon, in May this year, I bought a copy of the Big Issue and got chatting to the vendor. The sky had clouded over since I'd set off and it was starting to rain. He offered to lend me a spare umbrella he'd got and I was knocked sideways by his kindness.
This happened during a trip I was fortunate enough to go on, from Penzance to Edinburgh. I stayed in a different place every night for a month, travelling by myself, by train and bike. My aim was to take each day as it came but I made sure I knew where I'd be staying by nightfall. Being away from home like this, on my own, made me even more aware of how lucky I am to have the security of a home to live in.
That's the reason I'm joining in with The Big Sleep Out: to raise money for the Big Issue Foundation, which offers support to people who are homeless and face poverty and exclusion.
I'm going to sleep out in the cold for one night to help raise money for a practical initiative that helps people who are all too easily shut out and ignored. The Big Issue provides homeless people with an opportunity to earn a living and The Big Issue Foundation provides tailored practical support to help vendors rebuild their lives.
It seems deeply wrong to me, that in our rich country we still have people who don't have anywhere secure to call home, some of whom are sleeping rough. I can only begin to imagine how risky, tiring, complicated and cold it must be when you don't have anywhere to live. No one should have to face that situation.
Rosie says she's been inspired to fundraise because of a simple act of kindness. If Rosie has inspired you, find out more about The Big Sleep Out here.