I arrived at 7pm, not knowing anyone else, excited and a little nervous.  Fortunately I met Laura before going in – she had come from Portsmouth for the event. We signed in and both bagged a space outside (the other spaces were in the arches – can't have a sleep out inside in my opinion!).  Food (veggie for me, thankfully, as I have recently become vegetarian) and drink (non-alcoholic – it was a dry event) were laid on by sponsors of the event and we had musical entertainment as well – the Adam Street Singers were particularly marvellous and I would highly recommend them (they gave up their Friday night to perform, for free).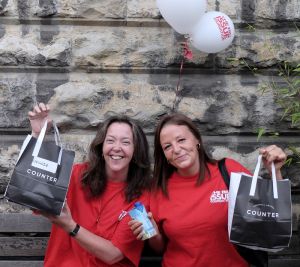 There was a panel discussion where I learnt that vendors are given a target of 35 magazines to sell a week – that equates to £87.50 to live on every week (you may want to read that bit again), including paying for food and rent if the vendor is lucky enough to have somewhere to live.  My local vendor, Tina, who is based outside M&S Food on Stratheden Road, sells 15 magazines each week on average – with the money she makes, she has to pay her rent, eat and support both herself and her elderly mother; she does not receive any benefits.  I also learnt that 30% of vendors have or have had an issue with drugs and/or alcohol…which means 70% have not (just in case that was your reason for not buying a magazine).
I eventually crawled into my sleeping bag at 2.15am, after one of the security guards asked me and the people I was speaking with to keep our voices down as others were trying to sleep.  The same security guard then kept me awake for the rest of the night by talking to his fellow security guard about the Messiah (interesting conversation and the irony wasn't lost on me!) I managed to get 20 minutes sleep, so it was all good.
At 6am I had some breakfast and lots and lots of coffee…added the details of my new found friends on Facebook and made my way home.  On the journey I saw one of the security guards waiting at the bus stop with three Big Issue balloons…any resentment about being kept awake melted in that moment.
If oyu're inspired by Sarah's blog, you can find out more about The Big Sleep Out here.
Sarah's top tips for fundraising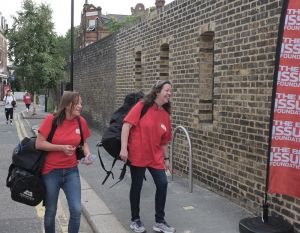 Sarah raised an incredible £1,056.00 for The Big Issue Foundation www.virginmoneygiving.com/SarahWalters5. Here are her top tips on how to raise those vitally needed funds:
Tell EVERYONE about it – your local shopkeepers, your colleagues, neighbours, clients – don't be shy!
Always have paper sponsorship forms with you – a lot of people, particularly those who are older, don't trust the internet, so give them an alternative option (it's harder to turn you down when you ask people face to face as well!)
Know what you're talking about – people have a lot of misconceptions about vendors so let them know that vendors have to buy the magazine and that it is exactly the same as running their own business. Be prepared to tackle the views that vendors all have alcohol issues, drug issues or "shouldn't be here anyway" – but be respectful – these people are hopefully going to sponsor you
Accept that no means no and that people can have very personal reasons for not giving, including their own lack of financial security
Have a copy or two of the magazine on hand to show people – some people have never seen the magazine, or not for a fair few years (when it wasn't as good as it is now!) – seeing a copy may actually encourage them to buy it in future
Choose the right day – Friday afternoons are good for fundraising…Monday mornings aren't!
Pay Day – If you know when your colleagues get paid, use that information!
Use social media but don't rely on it – people's newsfeeds are full of interesting information, including sponsorship requests, so experiment with posting at different times of day – use a photo of yourself so it stands out – people respond to photos
Carry on up to and after the event – take photos when you get there and during the event and post these to social media
Write about your experience – a big thank you email can generate more sponsorship
Promote the event – If you have a T shirt, or a hat, wear it as often as you can
Make it personal – why are you doing it? If you are passionate about it, this will come across when you ask people to hand over their cash!