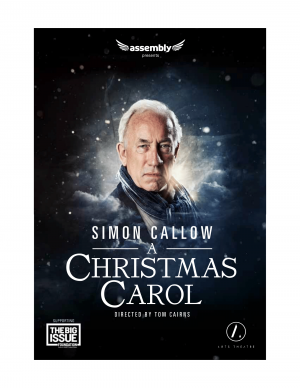 Simon Callow's one man rendition of A Christmas Carol is returning to London once again and we are delighted to announce the production will support The Big Issue Foundation via programme sales.
Following sell-out seasons in 2012, 2013 and 2016 Simon Callow moving one-man rendition of Charles Dicken's classic tale A Christmas Carol returns at The Arts Theatre, playing for a limited season from 8 December.
It's a tale of poverty and transformation and one that has played to a packed-out theatre in London's West End over many Christmas's. Intensely dramatic and profoundly heart-warming, A Christmas Carol is storytelling at its finest.
Using the adaptation Dickens made for his own public performances as a starting point, Simon Callow and director and designer Tom Cairns have conjured up a moving, funny and fast-paced one-man theatrical spectacular that will leave you with a warm festive glow.
Dickens takes us on a man's astonishing journey through his past, his present and (terrifyingly) his future, led by his three ghostly guides. Will Ebenezer Scrooge, tight-fisted, cruel and bitter, finally re-join the human race and learn to embrace the true generous and humble spirit of Christmas?
From the miser's dank and creaking house filled with shadows to cosy hearths, from stark graveyards to joyful festivities, this treasured story offers a celebration of goodness, a plea for justice and the promise of redemption.
Charles Dickens' A Christmas Carol is one of the most beloved books in the English language and has become a classic Christmas tale for generations of grown-ups and children alike. Brought to life by the magnificent Simon Callow, this is a Christmas must see for 8 to 108-year olds!
Simon Callow, a Patron of The Big Issue Foundation, is supporting The Big Issue Foundation through programme sales as he has done in previous years, with all raised funds supporting Big Issue vendors across the UK. He says:
"Charles Dickens would have supported The Big Issue to the hilt. It is everything he believed in: a hand up, not a hand out was at the heart of his own philosophy. No one fought harder for the disadvantaged than he, but he insisted that the start of all progress was the restoration of dignity and self-respect. That The Big Issue has provided again and again: and it's tremendously fitting that proceeds of programmes from our production of A Christmas Carol, Dickens' great attack on Want and Ignorance, should go to that magnificent organisation. It's perhaps sad that we should need such an outfit, but while we do, all power to Big Issue's mighty elbow."
Further to this, we are delighted to have been donated a pair of top priced tickets as a prize draw for The Big Issue Foundation.
By making a gift to The Big Issue Foundation between 1st November 2018 – 16th December 2018, you will automatically be entered into our prize draw to win 1 pair of tickets. The winner will be announced on Monday 17th December 2018. Tickets being subject to availability and T&Cs apply.
Homelessness is very much on people's minds as the winter closes in. As Simon says: 'Christmas becomes a symbol of how we might be in relation to each other, not just once a year, but always'.
Stephen, Foundation CEO, said: "Simon has been a dear friend and a generous Patron to The Big Issue Foundation and Big Issue vendors for many, many years. I can not thank him enough for his ongoing concrete support towards our work to end poverty and exclusion for Big Issue vendors."
You can purchase tickets to see Simon Callow in A Christmas Carol here
Simon raised over £2,300 through his programme sales which were donated to The Big Issue Foundation! Thank you Simon!