While across the world we are in social isolation or indeed lockdown, many people have had to cancel or postpone their fundraising challenges.
One of our supporters is defying the odds and taking on a challenge from the comfort of their own home.
Jacob Hill-Gowing has found an innovative way to raise funds to support our work during the pandemic. Goodbye Le Tour De France, hello Le Tour De Flat!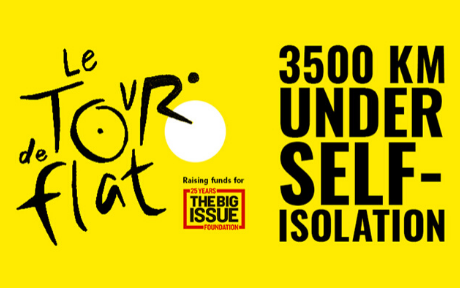 Jacob is aiming to cover the entire distance of the Tour De France, 3,500km, on an exercise bike that's been collecting dust in his home. He is aiming to raise £5,000 to support The Big Issue Foundation and is giving daily updates on his progress.
"So, we're all going to be in lockdown for the next 12 weeks.
Great if your job is secure and you're learning to knit, but for Big Issue street vendors, whose only income comes from selling The Big Issue magazine, this will be devastating.
Self-isolation means deserted high streets. Deserted high streets means no customers. And no way for them to make a living.
I thought to myself what can I do to help without leaving the flat?
The answer lay in the exercise bike I've been using as a clothes horse for the past 2 years. "I know what I'll do" I thought to myself, "I'll ride the distance of Le Tour De France in my flat", and I'm still going to do it even after I found out it's 3500km long.
Will I be able to go from fat to fit, whilst helping to ease the plight of Big Issue vendors throughout the country in this troublesome time? Or, will i collapse of horrendous cramps and wish i'd never been born? Find out as I attempt Le Tour De Flat!
I've even set up an Instagram page so you can keep an eye on my progress @letourdeflat
Or you can watch me live on twitch https://www.twitch.tv/letourdeflat"
If you're as impressed as we are, you can donate to support Jacob on his epic journey going nowhere right here: https://www.justgiving.com/fundraising/le-tour-de-flat