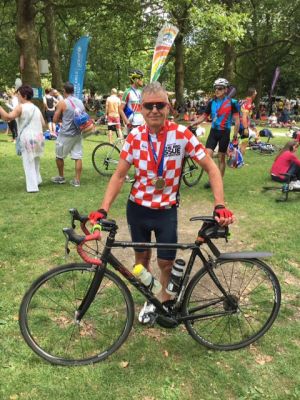 Would you like to take part in a 100-mile cycle ride while raising money for The Big Issue Foundation? Whether you missed out on a ballot place or just fancy taking on a new challenge, we have a limited number of charity places to fill for the 2019 Prudential RideLondon.
If you did win a place in the ballot, we would still love to have you on our team. Just like our other fundraisers, we'll provide you with a Big Issue cycling jersey, support and advice for your fundraising, and an enthusiastic cheering team on the day of the cycle!
Prudential RideLondon-Surrey 100 follows a unique route modelled on the 2012 Olympic Road Race route, taking you through the capital and into the beautiful countryside of Surrey. Starting in Queen Elizabeth Park, you'll cycle on closed roads into Surrey, before finishing in The Mall in central London.
By riding as part of our team with an individual fundraising target of £500, you'll be raising money for our vital work creating opportunities that will end poverty and exclusion for Big Issue vendors.
Your support for our work will make a huge difference to Big Issue vendors like Bill from Bournemouth, helping them turn their lives around and get back on their feet again.
"I'm so grateful for the support of The Big Issue Foundation, knowing that they are there to help me." – Bill
Phillip and Sam took part in RideLondon and raised funds by setting up a quirky stall at a church garden party:
"Our bikes were on turbo trainers and we endeavoured to replicate the journey from St Thomas Church to The Mall … The hook onto the stall was that we encouraged people to guess our time and how many calories we might burn".
RideLondon-Surrey 100 is always a popular event, so if you would like to join our team, please register here as soon as possible.
If you need any more information or advice, please feel free to contact us at events@bigissue.com or by phone on 020 7526 3456.