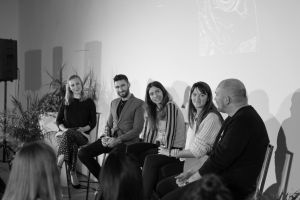 We are delighted to announce that The Big Issue Foundation has been chosen as the charity partner for #CultHosts, with all proceeds from the event coming back to TBIF. Cult LDN CEO's Cat Turner and Bridy Lipscombe have supported our work over the last two years and below we find out more about the event and why they decided to support TBIF:
Tell us more about Cult Hosts and how you came up with the idea?
#CultHosts was born out of a desire to run industry events that really challenged the status quo. We wanted them to be a platform for great opinions, and allow the audience to interact with the subject. Our first event was on Fashion-Led Digital Innovation, we held it at The Condé Nast College of Fashion, and along with fantastic speakers from Lulu Guinness, Mary Katranzou and Stylist Magazine we also had a number of exhibits such as a VR experience and 3D-printed footwear. That was two years ago now, and since then we've evolved the model to allow more guests to attend. For us, it has always been important to explore the subject, and educate our guests – they should go away feeling inspired!
What do we have to look forward to from the panel discussions?
We bring together many viewpoints to tackle a specific subject – we want them to pull it apart. Our next event will look at how Artificial Intelligence and Emotional Intelligence intersect – this is a pretty contentious subject, so we hope the panel will challenge one another and our audience to ask the right questions and consider how technology is impacting our emotional wellbeing.
Why did you decide to support TBIF through this event and how have you been supporting TBIF in the past?
We have a long-term relationship with TBIF. As a business we elected to support the Foundation back in 2015 and since then have supported on any area we can, from strategy, content creation, fundraising – our team completed the Big Night Walk last year – and have supported at key events such as the 25th Anniversary of The Big Issue. As #CultHosts has grown, it became a natural consideration for us to see how these two areas could interconnect. We hope to see this relationship to continue to flourish in 2017 and beyond. Bridey and I have long been advocates for TBI and the work that the Foundation does, so it's an honour for us to be able to work directly to support the work both do.
Want to come to the next #CultHosts on Wednesday 24th May? Find out more and get your tickets here.