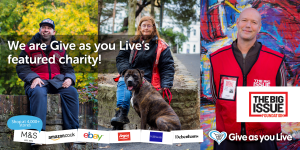 We've been selected as Give as you Live's featured charity!
From Monday 22nd October until Sunday 4th November we will be their charity of the fortnight, helping us raise more awareness of our work and help boost our donations further.
So far, our supporters have helped raise over £1,000 for just by shopping, ordering, and fundraising online via Give as you Live.
Shop at over 4,200 top stores and raise free funds for The Big Issue Foundation via the free online platform Give As You Live. The store pays Give as you Live a percentage of your total purchase price in commission and of this, 50% is passed on to us!
You can register on their website or by using their iOS app for iPhone/iPad (Android coming soon!) for free and when you sign up, choose The Big Issue Foundation as the charity you would like to support. Once you are registered, visit the shop via the Give As You Live website or app and then shop as normal.
The donation amount varies from store to store. Most of the time you raise a percentage of what you spend – between 1% and 10% – whilst sometimes it's a fixed amount.
With some stores there are different rates or restrictions depending on what you buy – you can see more information on each store's page on our website.
There is no extra cost to you or us – 100% of the donation will reach The Big Issue Foundation.
Here are some examples of where you can shop via Give As You Live:
Groceries – Tesco, Sainsbury's, Asda, Morrisons
Gifts: Amazon, Etsy, ebay, Interflora
Travel: Trainline, National Express, Travelodge, Expedia
Now you can Purchase a reloadable shopping card and raise each time you top up.
Sign up and shop at www.giveasyoulive.com/join/tbif
Read more here: buff.ly/2EvXgbh