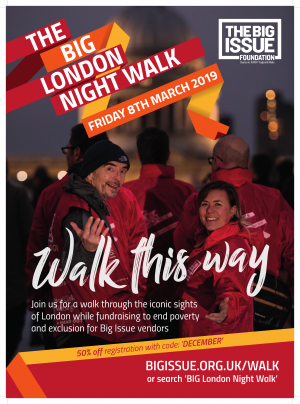 If you travel in or around London, keep an eye out for our Big Night Walk poster campaign over the next two weeks- coming to your local tube station today!
Alongside The Big Night Walk tube campaign, we are offering an early bird discount on registration with 50% off using the code DECEMBER. Sign up before the end of the year so you don't miss out!
The Big Night Walk is returning on Friday 8th March after 'The Beast from the East' stopped the event this year. We want 2019 to be better than ever so are launching this campaign to help spread the word about our flagship event. Be sure to keep an eye out if you're travelling through Kings Cross St Pancras, Liverpool Street, Euston and Waterloo, along with so many more!
When you spot the Big Night Walk poster, tweet us a selfie at @TBIF using the hashtag #BigNightWalk and let us know which station you found it at- you can find them on corridors, staircases, lifts and escalators so please selfie responsibly!
We can't wait to welcome over 400 participants to take to the streets of London for a Friday night out with a difference. This event was founded in solidarity with people who sleep rough, who often find it safer to walk during the night than bed down on the streets. Starting off in central London at Shoreditch Town Hall, the unique 13 mile route will take you on a tour of iconic London landmarks by night. With personal insights from Big Issue vendors to inspire you along the way, the night is sure to be an eye-opening experience.
Join us on Friday 8th March to make a difference to the lives of Big Issue vendors. All funds raised will go directly to supporting more Big Issue vendors in their journey away from the streets.