We are excited to announce that The Big Sleep Out is back and now bigger than ever!
Due to increasing popularity, The Big Sleep Out is now bedding down in three different locations across the South as part of the biggest Big Sleep Out in Big Issue Foundation history.
So why not join us for the most meaningful night's kip you'll ever have?
The Big Sleep Out North – The Bernie Grant Arts Centre – Friday 12th October Cancelled
The Big Sleep Out South London – The Kia Oval – Friday 16th November Buy tickets
Big Stadium Sleep Out – Southampton Football Club's Stadium – Friday 30th November Buy tickets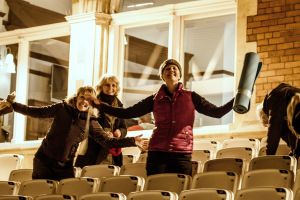 Last year's Sleep Out raised over £50,000 for our vital work with Big Issue vendors and we can't wait to see the goal smashed again this year! Your fundraising will help us continue providing vital support for vendors like Matthew to take positive steps away from poverty and exclusion.
The Big Sleep Out offers you the opportunity to spend a night without shelter in solidarity with many Big Issue vendors who find themselves sleeping rough at some point. Sleeping outside in the autumn is undoubtedly challenging and last year's event saw participants brave near freezing temperatures – are you ready for the challenge?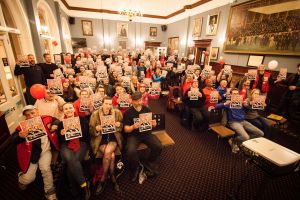 "It was such an amazing fundraiser. I now feel as though all misconceptions have been cleared up and I have a far better understanding of how exactly the charity helps its vendors, and I have so much respect for them. To be able to pick yourself up and be so determined to better their situations in any way they can is very courageous and inspiring!" David, former Big Sleep Out Participant
'This is the first time in our history that we have hosted 3 sleepouts. I am very excited about this and plan to sleep out at all 3. We are in both North and South London and have our first ever collaboration with the Saints Foundation in the stadium of Southampton FC. I might well be doing all 3 but I'd urge everyone to take part in at least 1! The money we raise will go towards our vital programme of service support for Big Issue vendors. In taking part and gaining sponsorship you will help support many who have spent more than just one night outside in the cold. Please join us and I look forward to seeing everyone there on the nights.' CEO of The Big Issue Foundation, Stephen Robertson
Sign up today: registration costs just £25 (or £20 per person for a team of 5+). Your fundraising will enable Big Issue vendors to take positive steps away from poverty and exclusion.