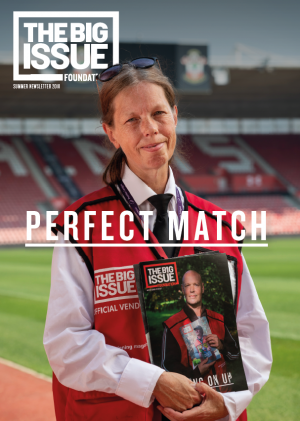 At The Big Issue Foundation, we know that each person's journey is their own. The journey for us begins when someone chooses to become a newsagent without a shop, buying The Big Issue, investing their own cash into their stock and trading their way out of their situation. Vendors know each transaction is more than just a sale – customers help build your confidence and help you move forward. The acknowledgement that you have got up, are doing a job of work and are taking part in society counts for so much.
At the acute end of poverty there are many serious challenges including homelessness, addiction and mental illness and many Big Issue vendors suffer from the effects of these and much more. For over 20 years, The Big Issue Foundation has been helping vendors deal with the issues that have brought them to us.
In whatever way you have helped, I cannot thank you enough, dear reader.
In this newsletter, we celebrate just a few of the many journeys that vendors have embarked upon. The help, care and intervention by our staff and partner agencies are a vital part of vendors' support networks, helping to navigate the many obstacles and challenges that arise to create opportunities for brighter futures.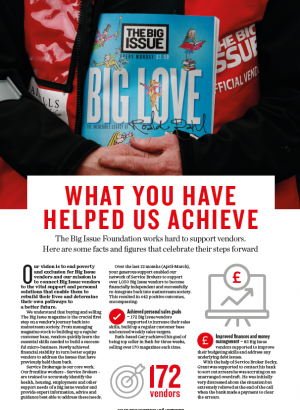 Big Issue vendors are trying their hardest to use The Big Issue 'micro-entrepreneur' model to turn their lives around and we are here to offer the hand of support.
Former Army medic Bill found himself living a hermit-like life, spending several months living in a cave. He went onto become an ambassador for our family, sharing his story, giving eloquent and motivational speeches ahead of fundraising events and raising money to support our frontline staff. Bill now has a new job and I think you will find his story more than inspirational! (p3)
Julie (p6) faced challenges in her life that many of us might struggle to overcome. Family tragedies led to extreme emotional difficulties, relationship breakdown, ill health and finally a terrifying life on the streets. Julie joined The Big Issue and gained a whole new group of friends and forged a new life for herself. Our team of Service Brokers helped her to achieve her goals and find somewhere to call home.
Julie has taken part in a unique scheme developed by our friends in the charitable arm of Southampton Football Club. The Saints Foundation has provided her with the support to obtain qualifications and employment opportunities and they are now going onto host a Sleep Out event in the stands of the club to help fund more change for the future. (p12)
As a charity, we are not funded by sales of the magazine. You, and supporters like you, are the change makers. Through your gifts and participation in our events you directly support our vendor support services, including our small team in Dorset and Hampshire, the very team that supported Bill and Julie. (p8)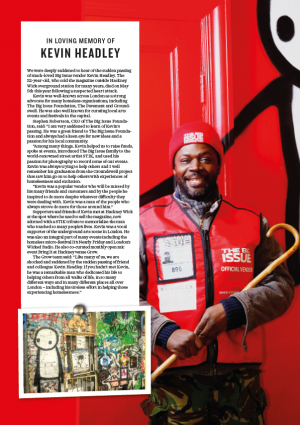 Housing, financial capability, health, education and employment are all central to our work. We seek to create equality and opportunity. We are focused on helping prevent repeated homelessness; enabling access to support services and building futures.
This newsletter also pays tribute to Kevin Headley (p18) who passed away suddenly much to the deep distress of his family, friends and customers. He was always looking for opportunities to connect people for the common good. It was through Kevin that we met world-renowned street artist STIK and from that many good things followed. I knew Kevin for many years and we did some great things together. He was full of ideas and totally selfless. I was honoured to attend his graduation as a peer advocate with Groundswell. Kevin was a lovely man, he never stopped trying and neither will we. It reminds me we can only be stronger if we are together. As Kevin always said to me: "Blessings.
We thank you for taking the time to read this newsletter, for the help that you have provided and the help that you will go on to provide. We can only be stronger if we are together.

Stephen Robertson
CEO – The Big Issue Foundation