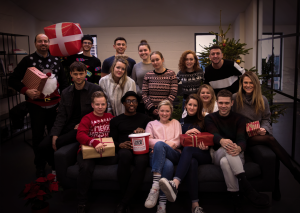 As winter sets in, The Big Issue Foundation are asking supporters to Wear Something Woolly on Friday 7th December and fundraise along with their colleagues, schools and friends to support Big Issue vendors at the toughest time of year.
Wear Something Woolly Day is a great way for everyone to get involved. For a £2 donation, sport your woolly clothes with pride, knowing that the money you are raising is helping people in poverty to rebuild their lives this winter. You can also take on the challenge from the comfort of your own home with your family and flatmates and make a donation via text, sending WSWD18 £2 to 70070.
Over the last four years, we've raised over £25,000 by keen knitters and knitwear lovers so are excited to see the nation getting woolly once again next month to help transform lives this winter.
If you can't do Friday 7th December, you can pick a different date if you like – just let us know when you would like to host your event and we can send you collection boxes, balloons and information about our work.
Your donations will help us in our mission to connect every Big Issue vendor to the support and personal solutions that enable them to rebuild their lives. By taking part in Wear Something Woolly Day, you'll be helping more and more vendors like June and Matthew on their paths away from poverty.
Want to do even more than wrapping up in your favourite woollies? Here are some other ways to get involved: mix up your woolly wardrobe and swap your jumpers, hats and scarves over a festive swap shop. Perhaps you know a keen knitter? Run a knitting workshop and show everyone how to get woolly in your neighbourhood! Christmas cake sales, collections and carols in your woollies are other great ways to get involved.
Sign up for Wear Something Woolly here and get your woollies at the ready for Friday 7th December!