My name is Tony. I am 45 years old and I have been a Big Issue vendor in Nottingham for 18 months.
Life has never been easy for me. When I was 6 months old, I was placed into care. I remained in the care system until I was 18 years old. Throughout my childhood, I moved from one care home to another. I didn't feel like I had any permanency.
I've lived with long term health conditions asthma and epilepsy all my life.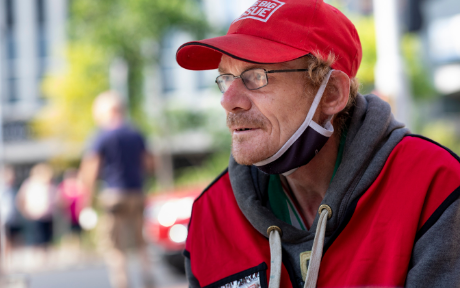 As soon as I was 18, I had to leave the system and they put me into a flat in London but I couldn't cope. I'd never been on my own before and I didn't know how to look after myself. I think there is more support now, but at the time they just left you to it. I didn't know how to budget and manage money. Luckily I found work with accommodation.
My first work came from a positive childhood memory. I started travelling with the fairground. I always used to go to the fair when I was a kid and thought it would be a great place to work. I did that for about 6 years and really enjoyed it. Unfortunately, asthma got worse, so I had to leave that work.
I then worked for the refuse service in London for several years and did bin collecting. My epilepsy started to get worse. It wasn't safe for me to work around the machinery, so I wasn't able to continue that work.
With my health issues getting worse, I found it hard to secure permanent work. I just had on and off gigs, nothing permanent. And eventually I found myself sleeping rough.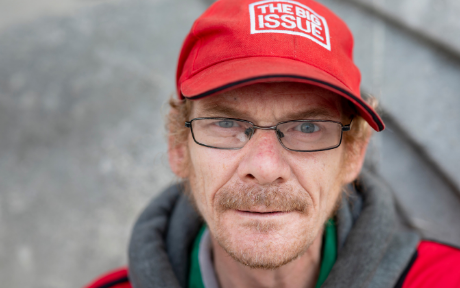 My asthma got worse and I was diagnosed with COPD three and a half years ago. It affects your lungs and as I've always had breathing problems, I didn't get diagnosed at first. I was at a routine appointment at the asthma clinic when they noticed my breathing had got worse. I did a breathing test at the clinic and they confirmed I had COPD. It can't be cured but it can be managed with medication.
Around 18 months ago, I was also diagnosed with angina which they said was brought on by my COPD.
These conditions affect my daily life – there are lots of things I can't do. It stops me from taking part in a lot of sports and being active generally. I enjoy walking but can't go for long walks as I get out of breath easily.  I find it hard to be near main roads as the pollution really affects my breathing.
My health conditions made it so much tougher sleeping rough. You must find safe places to sleep at night. You learn where these are as you gain experience on the streets. Even if you find a safe space, it can be difficult to sleep as you never feel truly safe. I used to smoke Mamba (also called Spice) just to get my head down. I'm proud to say I've been off it for 4 months now.
Things weren't working out for me in London and someone suggested Nottingham to me, so I decided to take a chance on a change of scenery.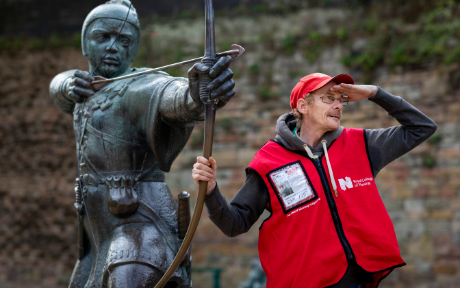 I didn't know anyone in Nottingham. For the first six months I was sleeping rough but then the council put me in temporary accommodation. During this time, I was getting money from begging. I knew it was illegal to be begging. The police were always moving me on so I knew I would have to find a way to make a legitimate income. That is where The Big Issue came in.
I met a Big Issue vendor who told me how it all worked and suggested I should try it. Pretty much straight away I went along to the office and got signed up. I was able to start selling the magazine straight away.
I try to be out and selling 7am-6pm however it really depends on my health. Also, if the weather is bad, I have to consider how much it will affect my health. Selling the magazine is challenging but meeting and chatting with customers makes me happy.
Not long after I started selling the magazine, the Housing Association got in touch to say that because I didn't have a local connection I shouldn't have been housed and that they were going to evict me. The Big Issue Foundation supported me get legal advice and the courts said that because of my health conditions they couldn't evict me.
What did happen though was my debt started piling up. People don't always realise; you still have to pay for this accommodation even if it's from the council. I got into arrears with my housing payments and once again I was facing potential eviction. The Foundation connected me with an organisation to help me manage my money. I have a budget plan in place now to make sure I don't get into arrears again.
If I had been evicted? To be honest, I wouldn't be here now. I wouldn't be here today if I was back on the streets because of my health conditions.
You know, winter is coming. I've slept out in winter when it's been snowing and everything else. I've managed to survive it, but I'd always end up in hospital because of my asthma and COPD. The amount of times I've been in and out of hospital is unbelievable.
Lockdown was hard. Due to my underlying health conditions, I couldn't go outside at all and had to stay at home for months. It felt like being in prison. I've never been to prison, but I felt imprisoned. I watched a lot of TV. The only people I was really in touch with was The Big Issue. I don't have anyone else.
I was happy to hear we could go back to selling on the 6th July and I started back on my pitch straight away.
The Foundation helped me to get set up to take card payments to help increase my income. They helped me to send off for my birth certificate. I wasn't sure if it would come back as I didn't have any details on my parents and I wasn't sure if my name is what I was registered with at birth. I was happy when it did arrive as this supports me to have ID. I'm getting a new bank account soon and I have my phone and card reader now. This will hopefully help me make more sales as I will be able to take card payments. Some people do still pay with cash but it's good to give people a choice.
I'd love to get a full-time job, but my health conditions prevent me from doing a lot of roles. I couldn't imagine sitting in an office all day, I like to be out and interacting with people.
My dream would be to open a community centre for kids in care or similar situations. I remember there being youth clubs when I was a kid but now, I don't see that so much. I'd like to open somewhere with things like pool and darts. This will give kids an alternative to hanging out on the streets. I think it would help stop some kids from doing drugs and getting into gangs.
I'd like to find somewhere I could volunteer to get experience working with kids going through care. If you haven't been in care, it's hard to make you understand what it's like. One day, I'd like to go back to the homes I was in and talk to kids about right and wrong and try and help others to understand they are important, and they matter.
For now, waking up and being grateful I'm alive keeps me going. Sometimes I worry that I'm not going to wake up because of my asthma and COPD. Every day is a gift.