Over the summer we have facilitated Big Challenge days for staff at Reward Gateway, Simmons & Simmons, Freshfields, Hotels.com, Citi bank, Redington and CloudSense leading to nearly 200 delegates taking part in this transformative experience.
The Big Challenge offers employees the opportunity to exchange suits and laptops for a Big Issue jacket and magazine – joining Big Issue vendors to sell (in teams) on the streets of London.
Spending a day working alongside Big Issue vendors is an incredibly insightful experience. Participants discover what it is like to sell the magazine and see first hand some of the challenges that Big Issue vendors face on a daily basis – learning about their resilience and sales strategies.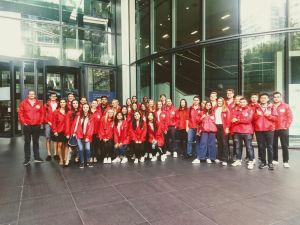 Big Issue vendors are tenacious; setting up their micro-enterprises in the midst of real adversity. So as well as raising awareness of the issues surrounding homelessness and poverty, the experience is equally inspiring and humbling.
Set up as 'The Apprentice' style challenge the Big Challenge is a great initiative for motivational team building whilst honing customer engagement and creative sales techniques; sitting well within the learning and development space. It also meets social and financial inclusion objectives as vendors appreciate the camaraderie as well as the extra sales made during the day.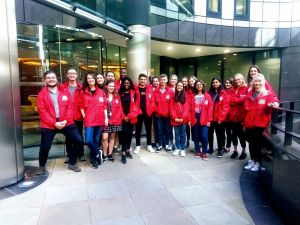 Many who have taken part comment on how simple human interactions are super challenging in our fast paced society – receiving a smile, eye contact or an acknowledgement is viewed as a great achievement by Big Issue vendors. Our digital society also adds to the challenge – with delegates more used to connecting on-line rather than 'back to basic' face-to-face interactions with those they do not know. Although this can be daunting initially you see delegates build in confidence throughout the day as they cold sell the magazine! Technology, such as headphones and phones are used as tools for dis-connection by the public – creating a social barrier to those who wish to connect. As delegates experience this, they may recognise some of their own behaviours and reflect upon this.
Furthermore, we all naturally connect and surround ourselves with people who are like us and that we choose to associate with – this can cause us to live in our own social bubble. Therefore, taking a day out of that bubble or comfort zone and stepping into another world can be a transformational and humbling experience. By donning the red vendor jacket and holding up the magazine delegates are no longer viewed in the same way – they are simply seen as a member of 'homeless society' and they face the same challenges and barriers that Big Issue vendors face every day.
Taking it back to the workplace – as well as reaching social and financial inclusion objectives the day can also be set up to attain outcomes in team building, resilience, sales and leadership.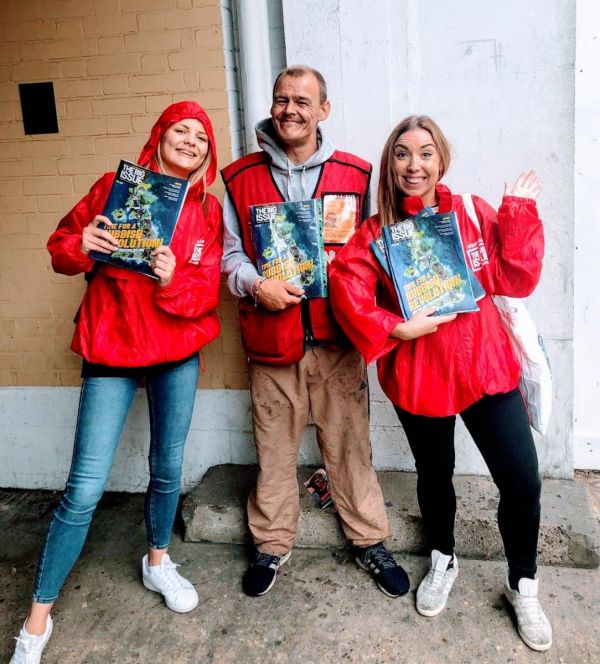 Quotes from participants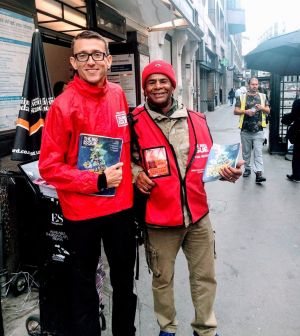 Really positive, interesting experience!
The format was perfect.
GREAT experience – really learnt about day to day life being homeless and needing to sell to survive.
Really enjoyable and challenging – Eddie's story was eye-opening as to how lucky we are. Definitely strengthened resilience.
AMAZING – I am speechless !
Quality. Our vendor Stevie was an absolute legend. I was thrown in at the deep end but it gave me a feel for how it is for the vendors that have to do this rain or shine!
It was life – changing
Really insightful; quite humbling to see how the public reacted to me.
I had a fantastic experience today. I have never done anything like it. It was much harder than I expected. It was highly educational on how the Big Issue functions
It made me realize how difficult is to be a Big Issue vendor and how much of a difference it can make when people just acknowledge your smile.
Enlightening – I didn't realize how hard it is to sell, impressive entrepreneurship
For more insight on this day please view this short film here. If your company wishes to take part please contact Serena Crisp, Head of Partnerships at serena.crisp@bigissue.com or 0207 5263452