Long-time supporters of The Big Issue Foundation, and veteran tour guides, Beard and Bald, are running a unique and incredibly entertaining online experience called 'Beer Drinking with a Brit' with all funds raised coming to The Big Issue Foundation.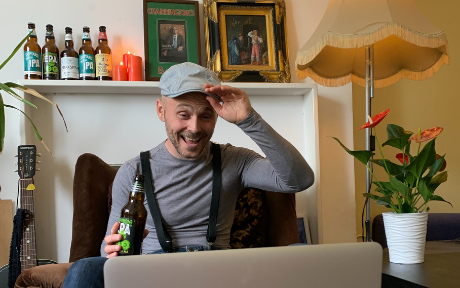 During the online experience, which is hosted on Air BnB, Beard and Bald share the peculiarities of British pub culture with fascinating stories, interesting facts and hilarious anecdotes.
Glenn explains what inspired them to set up the Experience:

"Now, more than ever we see the need for us all to pull together and lend a hand where possible. Our new online experience, Beer Drinking With a Brit, allows would-be travellers to experience some of the British pub culture in a time when they would otherwise be unable to. It also offers those (locals) well versed in our pub culture, the chance to enjoy British pub traditions and quirks from a safe distance whilst having fun and learning a few things with a beer in hand."
What you can expect
Join Beard and Bald in some cultural peculiarities and discover the sacred beer rituals of the British, who have favoured beer over all other drinks (except tea of course) for centuries.
Be entertained with one or two awesome stories about famous legendary drinkers as you enjoy this 'one of a kind' online tasting party. Without stepping foot outside your front door, you'll be mingling with new friends from distant corners of the globe and enjoying your new favourite online pub.
By the end of the experience you will be fully versed in the way of the British and understand all of the little subtleties that can be discovered on a night in a British pub. Discover Britain's drinking secret and be fully prepared to have some fun as you learn all you need to know.
The experience is already proving very popular!

"A great way to experience Britain's pub culture, by bringing it into your own home! Such a fun evening and a lovely way to spend time with friends online."

"Fun and entertaining evening! Wonderful experience learning more about the British drinking culture and nuances we do! Whether you're British or not, you will learn a few fun facts along the way. Bonus that it's interactive and you can get involved. Beard and Bald was a great host, very welcoming. Great way to unwind and relax into the evening, would defo recommend. Extra extra bonus that it's all done for a great cause!"

"Fantastic introduction to drinking with the Brits! The experience was really funny and engaging as well as being full of interesting facts about the weird and wonderful traditions surrounding pub culture. Loved it!"
Find out more and sign up to a Beer Drinking with a Brit online experience here.