Vendor André has secured valuable experience at a law firm but wants to start a business that will really bake something of his life.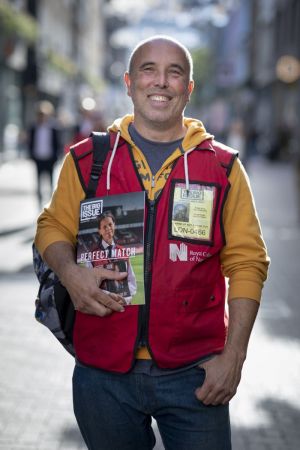 My name is André. I have sold The Big Issue in Covent Garden and Soho for six years, since a domestic crisis suddenly caused me to lose a good, well-paid job, then a home.
When holding on to regular employment proved impossible, vending served to keep food on the table and shoes on my children's feet. It provided a thread of stability that kept me sane when my marriage broke down and I was unable to see my children for nine tortuous months; it also provided flexibility and financial resilience as I came to terms with single parenthood. And now, through a Corporate Placement scheme, vending has paved the way for me to re-enter mainstream employment in the City office of law firm Freshfields Bruckhaus Deringer.
As if preserving my sanity, supporting my children's welfare and helping me back into regular work isn't enough, what else has The Big Issue done for me? I'll tell you: it has helped maintain my self-esteem – staving off both monetary and emotional destitution; it has deepened my faith in the fundamental goodness of people – the kindness and generosity shown by my customers, regular and occasional, has been consistent. In fact, overwhelming, totally eclipsing the few negative comments or experiences that inevitably come with the territory.
Beyond that, there is the kindness of the various individuals and charities that help with food, drink, clothing and other necessaries.
On a practical level, The Big Issue Foundation has supported my efforts at journalism, publishing and even commissioning articles from me, enabling me to take a short course in journalism and contributing to the purchase of a mini recording device. It has fostered my creative side: a postcard I designed for a Big Issue competition, reflecting London's diversity, is now on sale at the shop We Built This City in Carnaby Street. The Foundation has afforded me the opportunity to contribute to events, speak in public and share the stark realities of homelessness with the wider public.
Though I have started work at Freshfields, I will continue to vend until Christmas – you can't suddenly stop existing in a cash, hand-to-mouth way and start sitting and waiting for a pay check, as the catastrophic roll-out of universal credit illustrates so painfully. Even after that, I will probably take a Friday/Saturday evening bar job or something similar to maintain cash flow.
But my plan to conquer the universe doesn't stop here. I often sold The Big Issue on Drury Lane. After hearing, for the thousandth time, a tourist burst into a chorus of Do You Know the Muffin Man? I looked around and realised that there is a Muffin Man-shaped space on Drury Lane into which I would fit perfectly. I had the go-ahead from Camden and was on the verge of launching my stall when our domestic crisis struck. So now I have to start again from scratch but this time I will be supported by King's Cross Business Hub, to whom I was introduced by, you guessed it, The Big Issue Foundation.
Come on, how cool would that be? My children love the whole idea of being able to say "my dad's the Muffin Man" and if you can't sell muffins on Drury Lane successfully, what kind of cockamamie world do we live in? So, all being well, this time next year, if anybody asks you, "Do you know the Muffin Man?", you can answer, "Certainly! He used to sell The Big Issue."
This winter, there is something you can do: by supporting The Big Issue Foundation, you will give Big Issue vendors like André something to look forward to, something to take their minds off their situation – most importantly of all – you will give a vendor hope for the future, a reason to go on. Donate today: www.bigissue.org.uk/winter
Andre on starting a business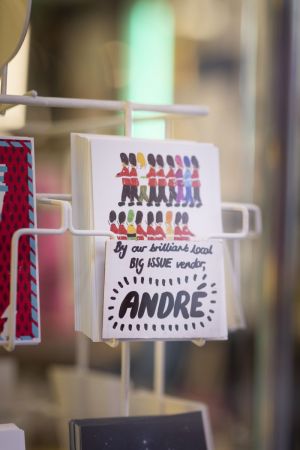 The officer said "Get up, pick up your sleeping bag and bugger off!" And, immediately, the man did as he was told. But the man was not cured of his homelessness … Because homelessness is not an infirmity … I think. I have been a Big Issue vendor for six years: six happy years – you don't have to be miserable because you're homeless. I mentioned being happy – that is, so far as I can work it out, pure luck. It is just my disposition. Being homeless typically takes an enormous emotional and psychological toll: it is profoundly distressing, it can be crushing.
The first thing that gets damaged is your confidence: when you are homeless – especially if you are rough sleeping – a whole raft of assumptions are made about you and, sometimes unintentionally or subconsciously, most people who become aware of your circumstances are guarded, suspicious or openly hostile. You are invested with your lack of shelter. Which brings us neatly round to muffins.
Yes. Muffins. It was on Drury Lane I had the idea. So I made enquiries, did research, called, wrote to and visited Camden Council – contrived a business plan, and got permission to sell muffins there.
After a few bumps in the road I now have a business mentor, through the good offices of The Big Issue, and I aim to be up and running by Easter 2019, selling muffins part time. If it succeeds, I can go full time, if it goes belly up, I should be able to fall back on the office work. So far so good.
But there is one small flaw in my plan to conquer, if not the universe, then a small corner of Camden – I am having trouble sourcing the right kind of muffin. I cannot sell heated food, while English muffins, delicious as they are toasted, taste like clay pigeons at street temperature. If the worst comes to the worst, I will simply sell American-style muffins to start, but I have a perfectly delicious third option that will be neither a chlorinated, unregulated American product, nor a false-toothshattering clump of dough.
I have written to bakers, visited bakers, emailed bakers, and can't quite find what I'm after, so have decided to take a different approach: to do it all backwards, as it were – and make a general appeal for bakers – if anybody reading this article could help …
This is precisely the opposite of what my sensible, practical, pragmatic and highly professional business mentor advises but here's the rub: it's a confidence thing. The relationship, the years of homelessness, financial hardship, and so much more about our circumstances have whittled away my self-confidence and self-esteem: try as I might, when I do communicate with these bakers, I am over self-depreciatory, I feel hollow, confused, unworthy and this was exacerbated when it came to putting together a CV. Fortunately, I have professionals helping me with the CV – there is a tremendous amount of goodwill.
The problem isn't who I know I am as a person, but what I feel I am – what I think other people think I am – I am comfortable with public speaking, performing, media – because that's me being me – but when it comes to what I am, it is really hard to escape defining myself in terms of being homeless, which is why I'm comfortable being a Big Issue vendor – it's like having the family name Baker and being a baker – it fits.
Anyway, with luck, a tailwind, a suitable baker, my hugely patient business mentor, loads more goodwill, Old Uncle Tom Cobbly and all, and any other support that presents itself, my hope is to reconcile who and what I am. Watch this space …
Our approach is uniquely 'vendor-centric' and entirely driven by the needs and aspirations of the vendor. They are at the heart of what we do. Please will you give £20 and help more vendors like André reach their hopes and dreams? 
Photography by: Magnus Arrevad.