Born in Spain and living in London.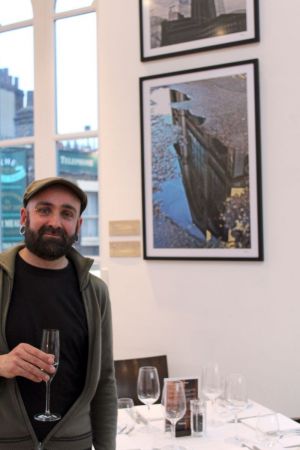 Since my childhood, I have been searching for other ways of seeing, travelling extensively, always trying to learn from my interactions with new people and new environments.
This way of life led me to photography and my photographic style. It has allowed me to get closer to communities and subjects that are important to me.
An urban nomad and a self-taught photographer, my approach to photography has evolved in a very particular way, forcing a clearer sense of what I want to achieve: a space where the constellation of many possible meetings and encounters can come alive together in a moment.
Drawing on my intuition, I use the camera purely as a means to explore what I see with my own eyes. I use no digital manipulation, distortion lenses or double exposure as creative tools. I want to show the viewer other realities that already exist. One does not have to manipulate them, only change the way we look.
Over the years I have been able to delve deeper and discover other layers of realities. This allowed me to dissolve the boundaries of these different spaces into one.
I like to play with the viewer's perceptions of what they think they are seeing to make them question the authenticity of their visual perceptions. Nothing is real and everything is real; nothing has boundaries and yet we ourselves are boundaries. Identity is and is not and the opposite but a force field of many others.
I try to capture the natural and, at the same time, unnatural juxtapositions in our lives; a reminder I hope, of the uncertainty and fragility of our existence.
You can see and read more about my work on my website www.carlosphotography.com
Carlos and The Big Issue and The Big Issue Foundation
Carlos has been selling The Big Issue on and off for eight years. Carlos got his first camera while squatting in a synagogue in East London. Here Carlos met a photographer making a documentary about the synagogue. He asked him if he could help him find the best camera with his £30 savings. The photographer helped him and this modest piece became the beginning of his journey. Several years ago Carlos attended a photography workshop organised by The Big Issue Foundation where he made a life changing connection. He met a professional photographer who was amazed by Carlos' talent and she has been his supporter and mentor since. His second camera came from a regular Big Issue customer, a former National Geographic photographer in his late 70s. As he suffered from Parkinsons he could no longer use his camera and gave it to Carlos as he wanted it to be passed on to someone with a true passion for photography.
From March to September 2016 Carlos held a photography art exhibition at Roast, a landmark British restaurant in London's Iconic Borough Market. Roast likes to use their large walls to exhibit works from people who they feel share an affinity with Roast's joint values or exploration and authenticity.
The idea for the exhibition came about when Silja Nyboe Andersen, a now former employee at The Big Issue Foundation was introduced to Big Issue vendor Carlos through one of The Big Issue Foundation Service Brokers. Silja was hugely impressed with Carlos' work and connected Carlos to our Founder Iqbal Wahhab and Felix Appelbe, a dedicated supporter of the arts and social initiatives. The exhibition was put together in support of The Big Issue Foundation to honour the fact that his talent was discovered through connections made via the Foundation workshop.
Carlos' story is a story of the power of human connections and this exhibition is another testament to that.