I started selling the magazine last September, originally on the other side of town, at Pero's Bridge, Bristol. I'm not long out of hospital so I just do a few hours a day on my pitch, enough to make some money. I nearly died after an operation and I was in hospital for a month but I'm getting better now.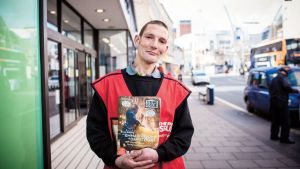 My work background is removals and labouring, and that's what I'm trying to get back into but I'm waiting till my leg's fixed up. I'm on a jobs programme so they can help me out with qualifications, like a CSCS card, so I can go back on a building site.
I want physical work, the kind that knackers you out.
I currently sell outside Marks & Spencer Broadmead, the customers here in are nice too. I've been on this pitch for a couple of months now and I'm enjoying it. It gets me out meeting the public and having a laugh with people.
Martha, a Big Issue Foundation Service Broker, and all the staff at Big Issue have been really good to me. Martha helped me get a bank account and a passport. I struggle a lot because I didn't do much school, so forms are difficult.
Mine was a bad start in life. I got involved in drugs and from there I had problems with work and housing. Then I had a car crash in 2006 and smashed my head in. I died three times. I woke up with no memory and they thought I'd be a cabbage for the rest of my life. I couldn't talk and just watched kids' TV – but I'm doing pretty well for a cabbage now.
I was on the streets for six or seven years but now I'm living in a hostel.
It's lovely, really posh. The people are lovely too but I don't see much of them. I'm not used to being inside so I don't spend that much time there.
My daughter is my life. She's 12 and lives with her mum in Bath so I haven't seen her since I moved to Bristol three-and-a-half years ago. I used to have money, so I could afford to look after her. Now I'm trying to start afresh but it's a lot harder when you're on the right side of the law. I'll be seeing her soon though. She hasn't got the confidence up, so I don't know when exactly, but when it happens I'll take her out and spoil her as always. It's something to look forward to and focus on.
If I won the lottery I'd look after all the people who have looked after me. There are so many people and charities in my life who have helped me out.
These days I'm behaving myself, selling The Big Issue and trying to sort myself out. I've died too many times for my liking and I'd just like a quiet life now.
Martha Luke, Service Broker Team Leader, Bristol
Damian came to our National Careers Service workshop and was referred to Reform Training to do his CSCS card. After his first couple of days there he came and saw us and said he was really happy with how he was getting on. He said he hadn't really held a pen and had to write in over 10 years and couldn't believe he was back in a classroom learning. He's been getting really positive feedback from the tutor and he was just so happy. I nearly wept! 

Last week he completed the course. All he has to do now is complete his test and then he'll be able to look at getting employment in construction. I'm just so proud of him! I've done loads of work with Damian, helping him get his ID to open a bank account, supporting him to access health and addiction agencies and he also got his First Aid certificate, he's doing really well!