"Every single customer of mine has been so helpful. They have changed my life"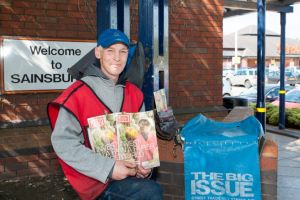 "I've just got my first house. I'm in private rented accommodation now. There is nothing much in it yet – a TV, chair and a cooker – but I love it to bits. My landlord knew me because I've been on this pitch for a few years. He used to stop and chat, and then one day he walked up and said: "I have a house for you!" I was gobsmacked. I am still over the moon but it has also made me lonely. I'm used to living on top of other people at B&Bs. I have never had a house on my own."
Darren had already saved up money to buy basic items for his home, but was in need of a washing machine as his trips to the laundrette was becoming more and more expensive. Last month through the support of his customers, Big Issue Vendor, Darren Brown was able to access our Vendor Support Fund to contribute to purchasing a much needed washing machine for his new house.
The Vendor Support Fund aims to give a small hand up to vendors with a specific objective in mind. Vendors save and contribute a minimum 20% towards the cost of the item required. We grant the additional 80% from our donated funds to help make the ideal a reality. Simple items that we all take for granted can seem like an impossible dream to a person living on the street. But with your donations we can help vendors like Darren, access the things they need.
"When I go to work I am happy. I love the routine. It is like everyone else who gets up and goes to work – I want that. I would love a guaranteed wage, I don't earn much money, but I enjoy being my own boss. Every single customer of mine has been so helpful. They have changed my life. From where I was to where I am now – they have done that for me and I would give my life to them. When people come up to me and say, "Hiya Darren", it is such a lovely feeling."
Darrens's pitch is at Sainsbury's, Wilson Street, Middlesbrough; he is there from 9am until 4pm, seven days a week. "If my blue bag is there but I'm not – I have just gone to get more magazines!"
We would like to thank our supporters, like you, for helping vendors like Darren, to turn his house into a home. You can read more about Darren's story here via his "My Pitch".