Donato is originally from Turin, Italy. He has previously lived in the UK and Australia and returned back to the UK several years ago. Since 2016, he has been a Big Issue vendor, originally working on his pitch at Victoria Station before moving to Angel a month ago.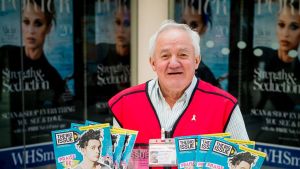 I'm still alive, after all my troubles – that's what I like to tell people. I've been through the mill but I'm still standing. That's the important thing.
I've been selling the magazine here at Victoria station since January this year, and it has been good for me. I had been homeless in London for a few months before that, having left Italy in September last year. I left Italy because life had become very difficult for me there and I needed a fresh start. So London seemed a good place to come because I lived here many years ago as a younger man.
I grew up in Turin in the north – a very industrial place, where they make the Fiat cars. Not many tourists but a good place anyway. When I was a child I grew up in an orphanage, and I was beaten up there by the nuns and the priests. Later, when I went home, I was beaten up by my stepfather. So my troubles began.
I moved around a lot. I went to Australia as a young man. I worked as a fitter and metal worker there, then I worked in the nickel mines. Australians are rough people – big drinkers – but I got on well there. I came to London in the mid-'70s and worked as a waiter for a couple of years. Then I worked on a cruise liner, a P&O ship, before going back to Italy to become a salesman for a time.
But life became hard because of a relationship with a woman – I would rather not explain – so I came back to London for a new start.
It was difficult at first. I slept outside, then found shelter at a Methodist church in Chelsea. Then, when I started selling The Big Issue, I found it gave an old man like me a sense of purpose again.
In February I began to share a room in Whitechapel, so things are getting better. I have a fantastic pitch here inside Victoria station, organised by The Big Issue and Network Rail.
The nice people in Caffè Nero bring me a cappuccino each morning, and I really enjoy speaking to my wonderful customers.
So life is good. After all, I'm still alive."
Last month, Donato was selected to be the next Big Issue vendor to be selected for the Wellcome Trust Corporate Placement.
Not only will the placement provide Donato with a sheltered and friendly environment in which to sell The Big Issue, but also for him to gain valuable experience, connections and skills through mentoring and training. Donato is looking forward to visiting Wellcome each week. Donato will be selling The Big Issue in The Street, a break out area at Wellcome every Wednesday from 8am – 2pm.
'I am looking forward to meeting new people and exploring subjects that are new to me. This will be an exciting experience and I hope to learn a lot'