Getting a job has been 4 years in the making since I joined The Big Issue and started to address being homeless; I came to The Big Issue for help and support as I knew I could get my life back on track through being a vendor.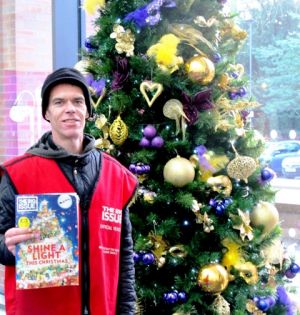 I can't believe I am handing my tabard in to start a new career, it feels like I have done the biggest achievement in my life. I have had to stick through the cold weather on my pitch, the days when I had to work hard to sell my magazines and also the hard work I had to put in with my corporate pitch in Bournville at Mondelez International the home of Cadbury. Going on the Ready For Work Scheme with Business In The Community and doing my placement at Mondelez gave me a pathway to a door I needed. I had to get my I.D. sorted too, I had a Vendor Support Fund through The Big Issue Foundation to get my passport, and I was also helped with resettlement when I moved in to my new flat.
I am proud to say I have done it my way, through being determined and using all of the skills I have gathered over the years to be able to go to into a new job with my head held high. I want to thank Kelly at Mondelez International, Business in the Community and The Big Issue Foundation for all of their help, but most of all my customers who were then when it rained but were also there when I was on the way up. It has been brilliant.
Gary Johnson, Badge Number 14, used to vend at Moor Street Station In Birmingham.
Our work is entirely voluntarily funded. Please help us to support more vendors and donate here.