An Update from George
George is now running the Oxford Circus distribution point for the Big Issue. Distribution points are local sites on the street, where vendors can stock up on Big Issue magazines. Given the size of London, local distribution points save vendors the often costly and time-consuming travel to the Big Issue office in Finsbury Park.
George also continues to sell the Big Issue at the BBC, where he is well known, having been on BBC radio and television on numerous occasions promoting Big Issue Foundation fundraising events, such as the Big Night Walk and Big Sleep Out.
George has also made some strides in developing his own start-up business, where he offers an English editing service for biomedical academic articles. The Big Issue Foundation and his corporate placement at Wellcome Trust in London have been important in supporting George in developing his own online business.
Although George enjoys running the distribution point and selling the Big Issue, he still hopes that one day he will be buying Big Issue rather than selling it.
A Year of the Big Issue at Wellcome
It's been a year since George started his corporate placement at The Wellcome Trust. Today a year on, in an open letter to the staff at Wellcome, George shared his experiences over the last 12 months:
Dear Wellcome Trust employees,

It has passed so quickly, but it seems that I have now been at Wellcome Trust for one year. This has been an interesting year and a positive experience.
I am grateful to everyone at Wellcome who has bought a Big Issue magazine, but most of all I am grateful at having had the opportunity to meet such a wide array of pleasant and interesting people…the People Team at Wellcome is to be commended.
Wellcome has been kind to me in many ways, including designing business cards, a website and providing a laptop, as well as allowing me to attend the two-day course 'Presenting with Confidence'. This has provided encouragement and practical advice on setting up my own business providing an English editing service for biomedical manuscripts.
I have continued to write academic articles on a wide array of biomedical conditions, including breastfeeding, Alzheimer's disease and perinatal depression. I am currently putting something together on how the current biological underpinnings of mental health may have implications for large organizations, including Wellcome.
Until recently, Ellie was my initial contact person at Wellcome. It was Ellie that initiated the involvement of Wellcome with The Big Issue. Ellie has now moved to the Science Museum. The lovely Jodie, has replaced Ellie as the Wellcome contact person for The Big Issue related matters, including me.
Speak to you all soon.
Lots of Love and Luck
George A
Big Issue Vendor
---
MONDAY, 8TH MAY 2017
One day I'll be buying The Big Issue not selling it!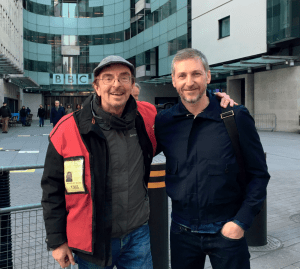 George has been selling The Big Issue for over two years. He didn't expect his life to take this turn, but people rarely do.
George used to work for the NHS up in Glasgow, mostly in psychiatric settings. He managed to build a good life for himself, but was hard hit by the financial crash and its aftermath, which left him penniless and without employment.
Having moved to London in order to set up his own business, editing medical articles written by people whose first language isn't English, George found himself homeless following the death of the relative who had encouraged him to move to London and make a fresh start. According to George, life on the streets of a strange city was something "I wasn't prepared for at all".
Out of financial need, George approached The Big Issue and found that not only did it give him some money to get a bunk in a backpacker hostel, but also provided a social network and a feeling of "being connected with others", helping to make London less of a strange city. At first, such support was provided by other vendors, but over time, also from his regular customers.
George has mostly sold The Big Issue outside of the BBC, where he has met with most celebrities, including Hilary Clinton and Prince Charles as well as an array of well-known BBC personalities on TV and radio. George has also appeared on the radio and television promoting Big Issue events, such as the Night Walk and Sleep Out, in which he has participated. George also presented medals to runners of the London Marathon who ran for The Big Issue Foundation this year.
"I wrote the introduction to the recent themed edition of The Big Issue, guest edited by the artist, Charming Baker. (George and Charming are pictured outside the BBC).  "The Big Issue has provided a range of experiences and opportunities to meet people that has been as important as the much needed finances that selling The Big Issue has brought." George now operates the distribution point near Oxford Circus, which provides magazines for the 40 or so vendors that sell locally.
"I have taken part in the vendor placement program, whereby vendors sell inside large companies and are given an opportunity by these companies to gain skills that will enhance their future employment. In the recent past, I have been one day per week in Northern Trust, a bank in Canary Wharf, and now currently one day per week in the Wellcome Trust, a large biomedical funding charity in Euston Road, London. The Wellcome Trust has provided help on website and business card design, as well as pointers towards getting business."
George's editing business is growing, and he is grateful to The Big Issue for giving him the time to enable this business to develop. George says "I am looking forward to the day when I will be buying The Big Issue rather than selling them. Although in saying that I would like to be involved in some capacity with The Big Issue, maybe making some contribution to helping other vendors."