COOKING UP A STORM
Ian Duff combines selling The Big Issue with running a catering social enterprise.
He says it's 'all about giving back'…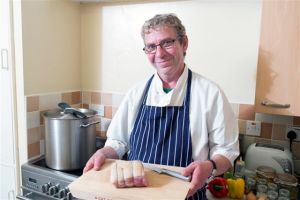 It's been a long year for me with some highs and lows: the high was starting my social enterprise, Duff Cooks, and the low was the death of my father. I started Duff Cook's as a means to give something back. It is a social enterprise to help the homeless and long-term unemployed learn to cook and how to eat well. I offer an at-home catering service and monies earned through this help me to teach people to cook.
So far, I have run several drop-in sessions with the help of DHI Project, which have proved popular, but I want to expand to reach more people. I have catered for a handful of people who have enjoyed the experience: I come along to your house and I cook in your kitchen. I serve the meal and even do all the washing up for no charge. So that's how simple it is, there are no charges until you finish your meal and unlike other catering firms, I cut the costs by using your kitchen plates and cutlery. In September, Duff Cooks hosted a hen party at a townhouse in Bath. On the menu was: tarragon chicken, hay-baked lamb rack, cod with pork belly.
Since Duff Cooks is a social enterprise, I asked a fellow vendor, Istvan, who has worked as a chef, to help with the prep and service for the evening, as he is keen to get back to working in the catering industry. The event was a great success, judging from the response the client sent me. This is what Duff Cooks is all about. We help people cook and eat well and also to get them back into the workplace. Istvan is a larger-than-life character. He is a hard worker and can take direction, which are both vital qualities for successful service. I am sure I'll use him again. Thanks go to Istvan.
To add to all of this, I have also established a network of local suppliers. Going local is another great way to help your local community like Tunley Farm Butchers.  They help me with all my meat needs, giving great value and good product, which all comes from local farms. It is important to me as a chef to get the best ingredients for my customers; buying the best when you can, makes all the difference to your food. So all I need now is for you to order and I can get on with setting up a better workshop to help those who need it.
I'd also like to thank the Big Issue, who helped me make this possible. After losing my job and my home, when the company I worked for went bust, I had nowhere else to go and was homeless. Friends in Bath asked me to come and stay, so I came here. I have now been a vendor for five years and I love my job; it gets me out and it gives me the means to have my own income.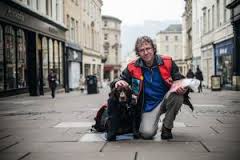 I can also have my dog Boycie with me, who gets lots of love and treats on a daily basis … maybe a few too many treats! I've also had great support from the Big Issue Foundation, who helped me to set goals and helped with the cost of a fridge and a washing machine.
In the last year, I have spoken at a variety of different organisations about the Big Issue. Everywhere we go, people are amazed: not only are we making an honest living, we are trying to move on from homelessness. It's all about awareness. The most asked questions are: "Do you get the mag for free?" and "Do you have somewhere to live and, if you do, why are you still selling?" These are great questions and ones I love to give the answer to on a daily basis as it means people.
I was also asked this year to do a talk at a language college which was supposed to last for 15 minutes it ended up being one and a half hours long; again showing that people want to know. From that talk I now have 3 more regular buyers!
I also love using social media tools. You can follow me on facebook, twitter and on my website DuffCooks.com I tweet daily not only to boost my sales but all vendors' sales here and even in Australia. I have also invested in a card reader so that I can take credit card payments. Please follow me on Twitter and Facebook and look up Duff Cooks.
If you like to support our work in helping more vendors move on please make adonation today
Photo courtesy of Sean Malyon Photography