We are very sad to report that beloved Bath seller, Istvan Kakas, who once received an award from the city mayor for his life-saving heroism, has died following a battle with leukaemia.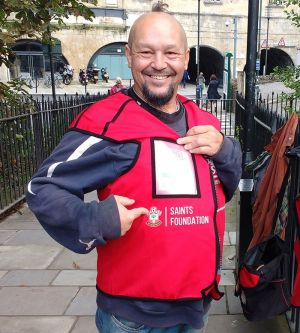 The 52-year-old seller lost his life at Bath's Dorothy House Hospice on Tuesday afternoon after a battle with leukaemia. Istvan was a much-loved and well-known figure on his pitch at Halfpenny Bridge in Widcombe, Bath.
Originally from the Hungary, Istvan began selling The Big Issue in Bath in 2010 in the latest stop in a life that had seen him work as a chef under Gordon Ramsay and Michael Caines as well as completing more than 250 parachute jumps while on military service.
He was renowned for decorating it with flowers as well as tinsel and toys at Christmas time and for keeping his busy pitch tidy using the trusty broom, which he also used to save lives…
April 30th 2014
As if Bath vendor Istvan Kakas wasn't cherished enough in the city for his community spirit, the 48-year-old was quick off the mark to help pull the young girl and her father from the River Avon.
Trained chef Istvan, from Hungary, was on his pitch at Halfpenny Bridge, between Bath Spa station and Widcombe, on Sunday morning when he spotted the child, who had fallen into the river during a cycling trip with her family.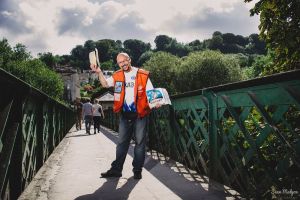 Her father had jumped in after her but also became caught up in the torrent – until Istvan came to the rescue, using his broom to help pull the pair to safety.
"It was just an normal Sunday morning and then I heard a high-pitched scream," Istvan explained. "I looked around and could see nothing and then I spotted this little pink helmet in the water.
"I just reacted. The girl's dad had jumped in and they couldn't get out so I grabbed the broom, ran over to the other side of the bridge and used it to pull them up. It all happened really quick."
"I was so scared for the poor girl, she looked in shock and her family were terrified. I'm just glad I could help. I would've jumped in myself if I couldn't help with the broom."
The young girl was taken to the Royal United Hospital in Bath for further treatment – but at the time she seemed more concerned for the whereabouts of her bike.
"The first thing the little girl said when we got her out was 'where is my bicycle?', the poor thing. I told her not to worry but she seemed more upset about it being lost in the water than anything else."
Istvan said he was shocked by the reaction of some by-standers – "people were filming this on these stupid smartphones, I couldn't believe it! This wasn't a film, this was real life," – but despite the shock of it all went back to business on his pitch for the rest of the day.
"I was shocked, I didn't really know what to think after it all. I just gave the family their space when the ambulance came and I was really worried for the rest of the day about how they all were.
"I see the dad most mornings, I think he passes me on his way to work. He came up to thank me and shook my hand this morning [Wednesday] and even bought a Big Issue.
"People were calling me a hero, saying well done, but it wasn't about that. As long as the little girl and her dad are safe and the family is OK now then that's all that matters."
A spokesman for South West Ambulance Service said: "We attended the scene at 10.45am on Sunday and an eight-year-old girl was taken to Royal United Hospital for treatment."
Istvan is a well-known figure in the area for making sure the busy patch is kept tidy and often decorates with flowers, even adorning the spot with tinsel and toys over Christmas time. He'll continue to keep his trusty broom close by, just in case.
"I do my best to keep the area looking nice, that's important to me. I get on well with everyone and lots of people know me.
"I was given the broom because my pitch is on private property and the council don't look after it. I was happy to help keep it clean but I never imagined I'd use it for something like this."
---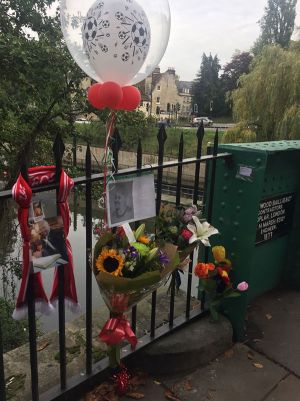 In the wake of his death, his pitch on Halfpenny Bridge has been covered in flowers and tributes from his regular customers.
Geo Leonard, Big Issue Foundation Service broker in Bath and Bristol, said: "Istvan will be deeply missed by all of us at The Big Issue. He had an incredible life and he was incredibly well thought of. He was very well looked after and supported at the end of his life and he would have been thrilled to see how many more people care so much for him and recognise his impact within the community.
"I would like to say thank you to Dorothy House Hospice for the terrific care that Istvan received in the last days of his life and I would like to say thank you to his regular customers for the help and support that Istvan received during his eight years of selling The Big Issue and over the last few weeks."
Pavel Douglas wrote: "To all Bathonians and those who regularly use the Ha'penny Bridge in Widcombe, Istvan the Big Issue seller who not long ago rescued a girl and her father from the river, has died.
"A thoughtful and quiet unsung hero. At least he won't have to sleep rough"
Timothy West also paid tribute to Istvan and said: "Istvan was such a serving, friendly and fun character that will be missed by me and many in the city of Bath. He had a strong faith in Jesus and I believe he is with him now!"
Jodie Kesterton said: "So sad to hear that Istvan has passed away. He was the loveliest man who had a smile for everyone & was always so positive despite the difficulties he faced. Widcombe has lost a hero."
Istvan will be laid to rest at a funeral at St Matthew's Church in Widcombe on Saturday November 17 at 11am.
A fundraising campaign in his memory has raised more than £4,000 with the proceeds going towards covering his cremation as well as a planned tribute plaque on the bridge where he sold the magazine.