We all struggle to make the changes in our lives that will help us to move forward. That change is often only possible because we make our minds up to do something and there is someone there to see it through with us.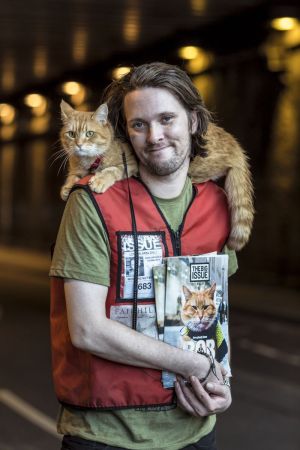 For former Big Issue vendor James Bowen that someone was a cat… a cat he named Bob: "The day I met Bob my life changed forever. I was no longer invisible. People not only stopped and bought a copy of The Big Issue from me but often stopped to talk to me," says James.
Bob, to this day, will accompany James everywhere, willingly listen to him play the guitar – James was a busker – and throw in the odd high-five, a trick that still charms any observers.
In 2007, James, a recovering heroin addict, found an injured cat curled up on a step. The cat was starving and injured, seemingly alone in a block of council flats in Tottenham.
After a few days, James took Bob to the RSPCA and they gave him a course of antibiotics, which cost £28. "This was pretty much the last money I had, but I didn't feel it was too much to help something in need," says James. "I've always loved cats."
James himself was living in sheltered accommodation at the time. He had come to London having lived a difficult life in Australia with his mum where he found himself being bullied at school. He found himself on the streets.
THE STORY OF JAMES BOWEN AND STREET CAT BOB HAS LITERALLY GONE ROUND THE WORLD AND SOLD OVER 3 MILLION BOOKS. IT GOES TO SHOW THAT HELP AND SALVATION COMES IN ALL SHAPES AND SIZES
"When you're sleeping rough, you are surrounded by people doing drugs," he says. "They offer you some, saying it will help you sleep – which it does – or make you feel better. And before you know it, you're thinking, 'Why not? I've got nothing else.'"
But James committed to helping Bob and nursed the cat back to health as he himself felt his life was turning a corner.
He soon found that the cat followed him everywhere he went, even on the bus, to the great amusement of fellow travellers. Bob took to sitting quietly on James's shoulder, or on the ground when he was selling The Big Issue in London.
Bob became an attraction and was good for business, whether it was busking or selling The Big Issue. Passers-by and regular customers would bring Bob bits of food and gifts started appearing – he had a collection of 20 specially-knitted items at one point.
James's inspiring story of how this unlikely friendship helped him get over his addictions to heroin and methadone is recounted in his book A Street Cat Named Bob. With this book, James has joined an elite club of writers with more than three million copies sold, and the book has been translated into over 35 languages. He has also published a follow-up and a children's book, as well as a Christmas book coming out this year. There is talk of a film, and with the money from his books James has been able to pay off his debts and fly to see his mum in Australia.
James and Bob has very generously agreed for The Big Issue Foundation to release the first ever set of prints in support of The Big Issue Foundation. To buy one of these unique collectors items take a look here.
But James is not one for forgetting the important things in life. "One of the best things in my life now is that I can help people (and animals) who are still voiceless – and invisible – to be heard and seen. It makes
me proud that the book has opened people's eyes to how The Big Issue works. That selling The Big Issue is an actual job! The work that The Big Issue Foundation does in supporting Big Issue vendors is so vital."
When Bob featured on the cover of The Big Issue in July the world went in to a frenzy trying to get a copy, with thousands of fans ordering from around the world. Big Issue magazines signed by James have been sold on eBay for over £600. The Big issue Foundation is currently selling one to raise funds for our work via ebay.
"All the attention is a bit scary but so is sleeping rough on the streets of London for the first time," he says. "You just adapt. This is an amazing opportunity to show the world how life is on the streets."
Indeed the world is listening: A Street Cat Named Bob has gone truly global and topped the book charts in the US, Brazil, Portugal and Turkey, while in Germany the book held the number one spot for 27 consecutive weeks. Bob has more than 50,000 followers on Twitter and 250,000 fans on Facebook. And James and Bob appreciate their support. "Every time we get a fan picture we frame it and put it on the wall," says James. "I try to respond to as much fanmail as possible. To anyone who hasn't received a reply, let them know that in my heart I love their messages."
James's new book, A Gift From Bob, can be bought from Amazon and if you go to Amazon via giveasyoulive.com and choose 'The Big Issue Foundation', a percentage will automatically be donated at no cost to you.
If you like to support our work in helping more vendors move on please make a donation today
#celebrateyourvendor! Do you have a local Big Issue seller who brightens up your morning? A hardworking vendor who is out earning a living come rain or shine who you think should be recognised more?
We want to hear stories from across the UK of what makes your vendor special and unique. We want to build a great collection that will tell the nation how important these individuals are.
There are stories about the big and small things many of our vendors do every day to improve their communities and become local heroes that Britain needs to hear about. It could be as simple as raising a smile on a grey morning commute.
Help us #celebrateyourvendor by sending us stories and pictures – ideally a pic of you and your vendor – telling us about them. Use all means: right here on Facebook, @TBIF on Twitter, or email us at foundation@bigissue.com