Read how Big Issue vendor Julie battled Grave's disease and tragedy to find a way off the streets and into a new job at Southampton Football Club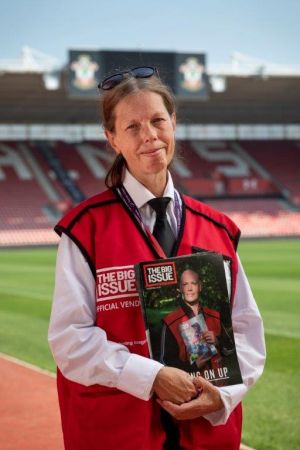 My name is Julie and I started selling the Big Issue in Bournemouth about 15 months ago. But that is not where my story begins. I'm originally from Kent and enjoyed growing up there with my family. But like so many others, I saw the bright lights of London and that's where my adventures began. I started working as an office junior at a law firm and I loved it. I was on a career path and over the next few years I continued to progress and gain better jobs at more prestigious places of work.
Everything was going well for me but then my mum got sick and passed away and sadly not long after I also lost my dad. It was a lot to deal with. Working long hours, dealing with the loss of my parents and other issues led to the breakdown of my relationship. The big city life had been fun at one point but now I needed a change.
I decided that moving somewhere new would give me a chance to start over – I had visited Bournemouth a few times and I really liked it, so I decided to give it a go. I packed all my things and hopped on a train heading south. Once there, I checked into a B&B and settled down for the first night of my new life. The next day, I went into town and registered with all the job agencies and it wasn't long before I got work. I soon found a flat and it looked like Bournemouth was where I was meant to be.
Then my boss was offered a job in Australia – after he left there wasn't really a place for me anymore and after moving me around a few departments, I was made redundant. Still feeling positive, I went back to the agencies and found more work. Unfortunately, I soon found myself in a very negative work environment. There was a lot of workplace bullying going on and I hated going there. Around the same time, I started to get ill.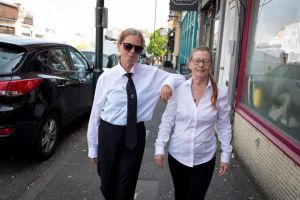 Two years earlier I had been diagnosed with Grave's disease, an auto-immune disease that causes an overactive thyroid. It speeds everything up in your body and means I have a 40% higher chance of having a heart attack or stroke. I had been managing my symptoms with medication, but things were getting worse. Eventually I wasn't able to make it through a full day of work and lost my job. I ended up being hospitalised at which point I collapsed and was rushed to their resuscitation area for stabilising and monitoring. I could have died. My weight loss was worse than I realised – I was under six stone and suffering from malnutrition as my body was in total overdrive. I was looked after at the hospital for a while but once they thought my symptoms were under control they released me to go home.
Little did I know, I didn't have a home to go back to. No one had let my landlord know that I was in hospital and they thought I had done a runner and had evicted me. I went straight to the council and they were able to put me up in a hotel for five days where I tried to rest, as advised by my doctors. At the end of day five, the council told me they couldn't help me any further.
I was on my own. Suddenly I found myself homeless and sleeping rough. It was such a strange experience, and honestly, it's all a bit of a blur as I was still very ill. It did open my eyes though. I hadn't realised there was a homeless community in Bournemouth, with so many people sleeping rough. I'd also never seen Bournemouth as a place with a drug problem, but it seemed like almost everyone sleeping rough was doing drugs and that wasn't something I wanted for myself.
It is terrifying being homeless and a lot more challenging as a woman. There are fewer women sleeping rough, but most are addicts. There are politics to the streets and you don't realise but you could be sitting or sleeping in the wrong place and you will get beaten for it. It's tougher than you can imagine, and I have female acquaintances who have been beaten and raped just for being in the wrong place at the wrong time. I was very lucky to make a friend who was not only clean and didn't do drugs but also regarded me with respect. I'm not sure how I would have coped without him by my side, he was like my bodyguard. He was a big guy, so people wouldn't mess with him. We were just friends but that didn't matter as everyone else knew I was associated with him and if they messed with me, they would have to deal with him.
Even with this support and protection, I realised I had to do something and was contacting the council daily to try and get myself off the streets. I was given a space at a Sleepsafe venue. Sleepsafe is a winter emergency beds scheme for rough sleepers with 12 beds in a church. It still doesn't feel like you have security, it's not a home. Luckily after a few weeks I was granted a place in a homeless hostel, which gave me a permanent room. Although I was grateful for a roof over my head, it still didn't feel like home. I had lost my independence. I was sharing a room with a stranger and had to respect the rules and regulations.
At this time, I started with The Big Issue. Although it was challenging at first and so different to office work, I threw everything into it to earn money and spend less time at the hostel. Selling the magazine also gave me an identity beyond being homeless. People talked to me, I no longer felt like an outcast; in fact, I made a whole new set of friends. I decided that if I focused on selling the magazine I would be able to start getting my life back together and move on from the hostel. The Big Issue Foundation Service Brokers gave me budgeting advice and helped me set realistic goals. I was working hard at selling the magazine and was also constantly contacting the council about housing. It was exhausting but I knew it would be worth it.
I gave myself two months to move on. It took four, but I got out of the hostel and into my own place. The council contacted me and told me they had an unfurnished flat. The Big Issue Foundation helped me source funds for low cost furniture and blinds for my windows. I call my flat my sanctuary – a place I can call my own where I can lock the door and be in my own space.
Now I had to think what to do next. I didn't want to sell The Big Issue forever. After speaking to Service Brokers at The Big Issue Foundation, they put me forward to do training with the Saints Foundation, the charitable arm of Southampton FC. I was accepted, and the Vendor Support Fund was available to help fund my travel. My first course was in First Aid. That led me to an employability course. Through my studying, I achieved my Level 1 Certificate in Customer Service and my Level 2 Certificate in Understanding Stewarding at Spectator Events. This actually led to me being offered an interview for a job at the stadium. The Foundation staff were there to help me prepare for the interview. I was so happy when I found out I got a job stewarding at the stadium on match day.
Because of my Grave's disease diagnosis, I never thought I would be involved in sport. Since then I have stewarded at around 10 matches and I really enjoy it. I love interacting with the people, they get to know you too because I work a set area. The energy on match day is unreal, although it does get a bit lively sometimes. By selling the magazine and stewarding at Southampton FC, myself and fellow vendor June managed to save up over the past year to go on a holiday.
I used to travel a lot and it was something I missed. We managed to save up and get a very good deal for a week in Lanzarote and it was one of the best weeks both of us had in a long time. I'm grateful for what The Big Issue and The Big Issue Foundation have done for me. They've helped me get my life back on track. By supporting The Big Issue Foundation, you are opening new avenues for people to reclaim their lives. You may see us as homeless or vendors, but your support may see us cross paths in the future in an entirely different capacity. People should never be labelled as one thing and I think the supporters of The Big Issue Foundation recognise that.
I do hope to be able to get back to full-time work one day but that does depend on my health. Currently I have good days and bad days and selling The Big Issue magazine gives me the flexibility I need to manage my condition. I'll continue to take my medication and make lifestyle choices to give myself the best chance. And until I am able to get back to a full-time role I am very grateful for the support of The Big Issue Foundation in helping me to once again achieve my independence.
Photography by Magnus Arrevad