My name is June Fullerton, I'm 59 and I've been a Big Issue vendor since November 2011. I first heard about The Big Issue when John Bird was talking about it on the radio. My husband had passed away a year earlier, I was living on my own, I was unemployed, and I thought: do I or don't I? I decided to go for it, and I haven't looked back since.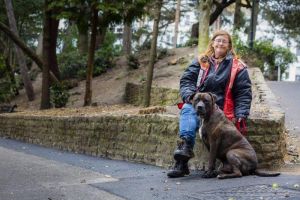 I work four days a week on a pitch in Bournemouth town centre, and I really enjoy it. It gives me a reason to get up and get out of the house. I have met so many people since starting and had a lot of laughs. It's different every day; you have good days and you have bad days but it's all worth it in the end as I get so much out of it, and when I'm having a bad day I can always come into the office for a cup of tea and a chat. I can also have my dog Jack with me. I inherited him five months ago because his previous owner was mistreating him. He's good as gold and very friendly.
I thoroughly enjoy my job but getting enough money together to pay the bills is a challenge. Richard, a qualified accountant who volunteers with the Big Issue Foundation, has been a great help in terms of getting my finances back on track. In 2013 I started to meet with him monthly to work on a budgeting plan, and late last year Richard and the Citizens Advice Bureau supported me through the process to obtain a Debt Relief Order to clear my personal debt. I am now completely debt-free. Once the bills are sorted, any additional money I earn I save for things like giving my family a great Christmas or to put aside for a rainy day. I have five children, all grown up, twenty grandchildren and two great-grandchildren with another one on the way.
I don't work on Wednesdays as this is the day when I go to college to do my Level 3 English classes. I've already passed Levels 1 and 2; I have dyslexia and this course helps me with my reading and writing. I've always had a thirst for learning and with the support of the Big Issue Foundation's Vendor Support Fund (VSF), I've done a lot of different courses to further develop myself. In 2012 I completed a computer course and a photography course.
In early 2013, I started an NVQ Level 2 in customer service. I wanted to add this qualification to my CV (which the foundation supported me to write) to improve my employment prospects and find mainstream employment. It's also taught me how to communicate more effectively with my customers and has improved my confidence in selling The Big Issue.
In 2013 I passed a Level 2 Door Supervision course and shortly after wanted to take on a course to be an SIA Approved Door Supervisor, with the aim of finally gaining mainstream employment. Being self-employed meant I wasn't entitled to any statutory funding and being on a tight budget due to housing, council tax costs financial support. Once again the Big Issue Foundation, through the VSF, supported me with 80% towards the course fees (£245) and I paid the other 20% (£49). I completed the SIA-approved qualification on the Saturday after TBIF Health Week – I'm sure that completing the first aid course during Health Week had a large part to play in enabling me to qualify as a Door Supervisor.
I have been working on my pitch for five years now and I am more than ready to get a 'proper job'. I went for a door supervisor job interview recently, which Liam helped me prepare for, but unfortunately I didn't get it. I'm not sure why, it may be the stigma behind me being a Big Issue seller, but I remain positive.
I really hope I can get a good job in the area. If I don't, I will keep working towards that goal. I am so thankful for the wonderful support from the Big Issue Foundation, its donors and my customers – you have all helped me rebuild my life.
Liam, service broker in Bournemouth, said:
"June's always shown a great drive towards self-improvement. I'm sure with her resilience and determination she will get back into mainstream employment."
Bournemouth and Poole College assessor
Roger Anthony said: "It was a pleasure to work with June, the level of personal commitment demonstrated was fantastic, and despite any personal issues she may have."
SIMON CHILCOTT, AREA SERVICES MANAGER, ON VENDOR JUNE 
With a small team in Bournemouth we support our often very diverse vendors to move forward in their personal journeys by focusing on the varying needs that brought them to us. Empowering June to take control in many areas of her life has been a pleasure; from day one June took the opportunity to create her own earnings and work with our in-house budgeting volunteer supporting her to manage her own finances. When the opportunity arose for vendors to gain an NVQ in customer service, June and several other vendors jumped at the opportunity and completed the NVQ over several months.
Speaking of jumping, June has always offered to support the Big Issue Foundation in its events and even jumped out of a plane with a team of fundraisers to raise much-needed funds for the Big Issue Foundation. Currently June is trying hard to access mainstream employment, which itself can be a challenge, but still she strives forward, with the bespoke advice and support from our team she continues onwards. June's story is a testament to the hard work of our teams, supporting vendors striving towards and often achieving their goals. This is one of the most important and fulfilling part of our roles.
If you like to support our work in helping more vendors move on please make a donation today.
Update: 12th April 2018
In August, the Big Issue and Southampton FC joined forces to create a unique, first-of-its kind matchday programme. The special edition magazine was sold across Hampshire in the days leading up to Saints' Premier League game against Swansea City, as well as being sold by vendors on the day. The work and partnership has continued since August with vendors like June being offered the chance to undertake an eight-week employability programme at Saints Foundation, Southampton FC's official charity. June was subsequently offered a job in the stewarding department at St Mary's Stadium, which is a fantastic outcome and the movement into mainstream employment that June has been striving for.
Greg Baker, head of Saint's Foundation has spoken of his joy of the success of the partnership and the great outcome for our vendors, including June.
"It is fantastic that, after really embracing the opportunity that the employability programme provided, Gary, Julie, June and Aaron were able to gain well-deserved employment within the club. Well done to all of them on that great achievement.
"It's been a really exciting and fruitful partnership so far, and we look forward to maintaining and growing our relationship with The Big Issue for many years to come."
Photography by Magnus Arrevad