In Memory of Kevin Headley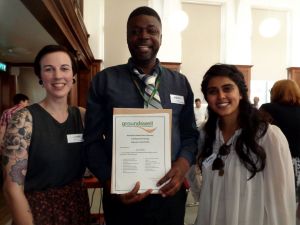 We were deeply saddened to hear of the sudden passing of much loved Big Issue vendor Kevin Headley. The 52-year-old who sold the magazine outside Hackey Wick overground station for many years died on 5th May following a suspected heart attack.
Kevin was well-known across London both as a strong advocate for many homeless organisations including The Big Issue Foundation and The Pavement. He was also well known for curating local arts events and festivals in the capital.
Stephen Robertson, CEO of the Big Issue Foundation said:
'I am very saddened to learn of Kevin's passing. He was a great friend to the Big Issue Foundation and always had a keen eye for new ideas and a passion for this local community. Amongst many things Kevin helped us to raise funds, spoke at events, introduced the Big Issue family to the world-renowned street artist Stik and used his passion for photography to record some of our events. Kevin was always trying to help others and I well remember his graduation from the 'Groundwell' project that saw him go on to help others with experiences of homelessness and exclusion. Kevin was a popular vendor who will be missed by his many friends and customers at his pitch at Hackney Wick Station and by the many people he inspired to do more despite whatever difficulty that faced them. Kevin was a man of the people who always strove do more for those around him.'
This week supporters and friends of Kevin met at Hackney Wick at the spot where he used to sell the magazine, now adorned with a Stik tribute to memorialise the man who touched so many people's lives. Kevin was a vocal supporter of the underground arts scene in London and was responsible for introducing Stik to The Big Issue Foundation in what became a fantastically successful partnership.
Kevin was also an integral part of many events including the homeless micro-festival It's Nearly Friday and London's Wicked Radio. He also co-curated monthly open mic event "Bring It" at Hackney venue Grow.
"Like many of us, the team at Grow are shocked and saddened by the sudden passing of friend and colleague, Kevin Headley. If you hadn't met Kevin, he was a remarkable man who dedicated his life helping others from all walks of life, in so many different ways and in many different places all over London – including his tireless effort in helping those experiencing homelessness."
---
Tuesday 12th June 2015
Big Issue Vendor Kevin Headley Graduates as a "Homeless Health Peer Advocate"
Graduation is a proud moment for any student; it is a time of completion, of finishing, of an ending but also a time of celebration of achievement and a beginning.
On the 4th of June we celebrated with Hackney's Big Issue Vendor Kevin Headley, as he graduated as one of Groundswell's 'Homeless Health Peer Advocates'. Kevin is now qualified to help people who are homeless access appropriate healthcare.
"I am proud to be nearing the end of my recovery, and with the humane trust and support, I have been able to see a future that seems to suit me. Thank you, to Stephen Robertson who has never lost faith in a soul and his staff members, Lauren, Emma, Kathryn, Matt, etc…for their infallible belief which, united together, has become a foundation to stand on."
Our CEO, Stephen Robertson who attended in support of Kevin said:
'I was hugely honoured when Kevin invited us to attend his graduation ceremony. Groundswell's 'Homeless Health Peer Advocacy' is a great example of an initiative that connects people with lived experience of homelessness to others who struggle to find a voice within the healthcare system. Kevin will be an awesome addition to their wonderful team. I am so proud of all the work that Kevin has put into getting to this point. I am more than certain that Kevin's star will shine. Well done mate'
Joining him also in his proud moment were Foundation Service Broker Lauren and one of his regular customer's Sadia, both pictured here with Kevin.
To all his supporters who have sent loads of heart warming congratulations and well done messages, Kevin would like to say:
"Thank you so much folks, you are a tremendous inspiration and I feel like I am at home with my family, (Big Issue/Foundation/Groundswell), who know and advise me, and direct me towards certain recovery. I feel myself again, and would like to channel and vehicle the good energy with the return of help and support to the impoverish, homeless and needy…I'm positive that you have trained me well"
Celebrating more of Kevin's successes this year; he joined over 300 walkers to complete the 12.5 mile long Big London Night Walk, raising in excess of £233.00 to support other Big Issue Vendors on their journey's out of homelessness.
We are incredibly proud of Kevin, this is the beginning of a new chapter for him and we wish Kevin every success in his new role.
You can read more vendor success stories like Kevin's here.