Until three years ago Mahesh was working for a blue chip company in south London.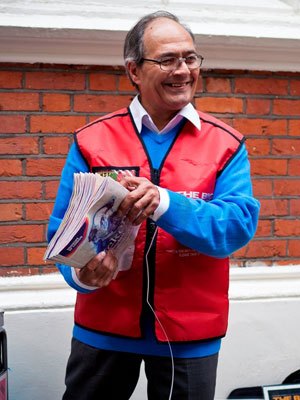 He had a good salary and a home of his own. However, force of circumstances saw his life change dramatically, which led to him being jobless and homeless.
"In less than 18 months, my life collapsed; hostels, friends sofas and rough sleeping became 'home' all too quickly," Mahesh says. For many vendors at Christmas this is their reality. But Mahesh approached The Big Issue and The Big Issue Foundation and started to rebuild his life; he was determined to make a change and started working 10 hours a day, seven days a week.
This 'self-help' attitude put Mahesh in a much healthier position, and with support of The Big Issue Foundation Mahesh was able to get off the streets. The Big Issue Foundation not only provided the support and advice that Mahesh needed but also offered practical items such as the deposit for his flat share where he moved in earlier this year.
Big Issue vendors contribute 20 per cent of the cost of items such as a passport; this chimes with our ethos of self-help. After all, we all respect and value things if we feel we have made a personal contribution. Mahesh agrees:
"It's important to give something back, to contribute in life; it's nice to feel that you play an active part in being part of the solution."