The Right to Work
Even though Mark's life unravelled he never lost the dream of getting back to work. This is why The Big Issue was the perfect first step on a path that led to the creation of his own business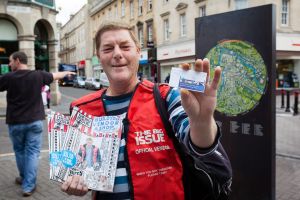 The Big Issue office in Bath provides a livelihood for vendors, who effectively work as self-employed street-traders, running their own micro-businesses. The service goes beyond that though, with The Big Issue working in close conjunction with local and national agencies to make a genuine difference in the vendors' lives. Many locals will be aware of the amazing work carried out by Julian House – the local charity offers a night shelter for people who are homeless, as well as offering them advice and guidance on next steps.
Someone who is fully aware of the work of Julian House is Mark Bailey. Mark, now 48, came to Bath in 2012 and initially found himself begging to get by. After moving in to the night shelter, Mark quickly became a Big Issue seller, with the encouragement of Julian House. His support worker Mike says: "Mark recognised that he wanted to be working." For Mark, running his own business and being in control of his finances was important – "I sold the mag for ten months and, during that time, had a way to earn… I didn't want to claim Job Seekers' Allowance, I wanted to work." Mike supported Mark's desire to work, commenting on how his "life skills improved immensely" through working again. Mark's dedication to earning an honest living is one that is reflected in all our vendors here in Bath. Mark's key worker says: "We got the feeling when we first met Mark that he had drive… he's at his best when he's working."
Mark also became involved with The Lifeline Service, which is a branch of The Genesis Trust in Bath. The Lifeline Service is run by Gloria, who helped Mark during his journey. She says that the project is "there for people working on the streets, and helps with the next steps in peoples lives." She speaks warmly of Mark, saying that the team were "delighted to be able to help and support him," and that the support is never taken away.
The Vendor Support Fund is available to all vendors, and gives them the chance to apply for funding to help them achieve their aspirations. If their application is successful they have to save to contribute a certain percentage of the funds themselves, demonstrating the importance of financial management. Mark says, "I always wanted to run my own business." By applying to the Vendor Support Fund, Mark was able to buy enough kit to set up his own housing maintenance business.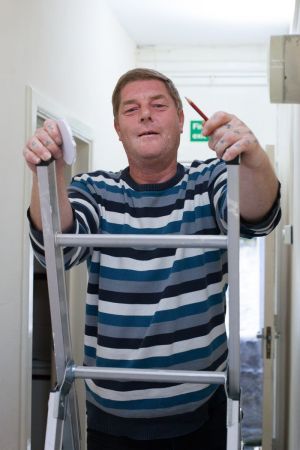 He's already done his first successful job and aims to complete many more: "I want to work five days a week, 52 weeks a year!"
The Big Issue offers help to many, and, by working in conjunction with charities and agencies, can provide so much more than sale skills and an income – it can provide a stepping stone to a new life, and a way out of the hardships that so many of our vendors struggle through.
"If it wasn't for the services in Bath, including The Big Issue, I would still be on the streets begging," says Mark. "Instead I am a businessman and have independence again."
Mike is clearly impressed by Mark's success, stating: "It's an absolutely amazing achievement." Mark's story is both moving and inspiring, and reflects the journeys of many of our vendors, as well as reiterating The Big Issue's ethos – "a hand up, not a handout".
"I am a businessman and have independence once again"
Case Study: Mark Bailey
WHY HAVING A JOB IS SO IMPORTANT
"I came to Bath about a year ago and was rough sleeping and begging. Through outreach support I moved into the night shelter and was encouraged to try selling The Big Issue. I sold the magazine for 10 months and during that time started to sort my life out. I didn't want to claim Job Seekers Allowance, I wanted to work. So I sold the mag and claimed Working Tax Credit. I always wanted to run my own business and now it's a reality. I now have the kit I need to run my own housing maintenance business. I've already done my first job and sent the invoice. If it wasn't for the services in Bath including The Big Issue I would still be on the streets begging.
Instead I am a businessman and have my independence again. I want to work five days a week, 52 weeks a year because I am proud of the maintenance service I offer."