Smart thinking has helped Nicolas into a work placement from which he aims to find Mainstream employment.
In March, Nicolas became the fourth vendor to take on a corporate placement hosted by Northern Trust in Canary Wharf, where he took over from Dave Martin.
Our corporate placement programme provides Big Issue vendors with a weekly, supported sales opportunity, as well as a chance to develop skills with the host company's employees. Corporate placements also provide an opportunity for companies to bring corporate social responsibility and diversity and inclusion strategies to life in the work environment. Nicholas, meanwhile, is very happy:
I like the fact that people are respectful and nice here, but of course, you have to be respectful also. Respect is earned.
Nicolas started selling The Big Issue in 2011. "It's good enough to survive from," he says. "Though it depends a lot on how you are with people." His steady sales, and commitment to his job on his pitch outside Southwark station, made him a perfect candidate to take over from Dave. He hopes to make new customers, work in a new environment, and grow his experience so he can find employment. The positive experience of vending at Northern Trust, and the energy he feels from being in the financial quarter has inspired Nicholas to start thinking about life beyond selling the magazine.
From that point, says Nicolas, things changed; he changed. In July, Nicolas moved into a room in a shared house. He was sleeping on a couch initially, but this gave him back pain and he was referred for physiotherapy. The Big Issue Foundation's Vendor Support Fund enabled Nicholas to purchase a bed, supported by London Service Brokers Sikira and Ana. Two weeks later he was on the mend and ready to dedicate his time to look for mainstream employment.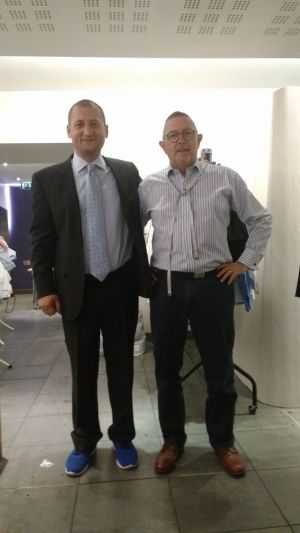 Ana helped Nicolas update his CV. They then applied for hotel and kitchen jobs in London. His lack of experience meant he struggled to get an interview, so they turned to Business in the Community (BITC). They are the Prince's Responsible Business Network, whose members work together to tackle a range of issues essential to building a fairer society. They helped Nicholas get an interview at a catering placement at Freshfields, another one of our corporate partners.
In preparation, Nicolas got a suit from Suited & Booted, a charity that helps vulnerable men back on their feet with smart clothes. Nicolas said:
It's great! I have wanted a suit that I can use for church and special events for a while. I think dark blue suits me!
Nicholas was delighted when he was told he had secured the placement at Freshfields. After attending a couple of training and confidence workshops with BITC, Nicolas started his two-week placement in September. He liked it there, and got on with the team. They have reported:
Nicholas is such a lovely person, and great to have around. He had a great, positive attitude and worked hard.
Hopefully, gaining this experience will increase his self-confidence and empower him to take positive steps in his journey towards employment. Until then, BITC will pair him with a job coach to help him along the way and, of course, he always has us here at the Foundation to support him.