"Good morning, Big Issue? " I said loudly as the flock of pedestrians hurried by, not noticing or aware of my presence. A middle aged man stopped and asked "How did you get to selling the Big Issue? " He asked very conscious of his direct questioning.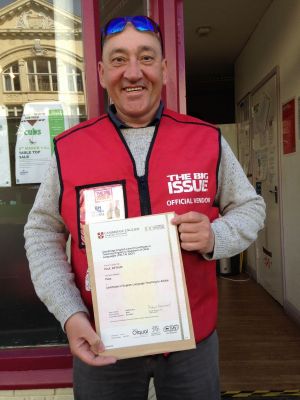 " I have been an English as a foreign language teacher for many years all over the world, and in the last country I had to leave, because the language school didn't want to pay me my whole salary. "
"Then why don't you get yourself a teaching job here? "
"I have been very lucky to work in this profession, but unfortunately I don't have any officially recognised qualifications."
"So how did you end up on the street? "
"I had no option but to return to England, and when I got here I was told that I wasn't entitled to any types of benefits, due to not having been a resident for many years. I very quickly ran out of money and had nowhere to stay. I was walking around Bournemouth very depressed and not looking forward to yet another night of rough sleeping, when I spoke to a Big Issue Vendor who introduced me to the local Big Issue team Kirsten, Liam, Carly and Simon. "
"Within one hour I had been given 5 magazines by Kirsten to start me off (although after that each copy costs me £1.25 and I sell them on for £2.50) and Liam took me to a training pitch with some guidance on selling the mag. After I'd sold the first five it gave me enough cash for one night at a local B&B (special winter price)."
"Why didn't you go to a night shelter? " The prospective inquisitive customer asked me.
"I couldn't go into a night shelter all the beds were full, that's why I had no choice, it was either an inexpensive B&B or the pavement. I managed to keep on increasing my sales daily, and continued to stay at the B&B. It was two months before I could claim a low income housing benefit.
I also realised that it was necessary for me to get a recognised teaching certificate, and so I decided to save as much as I could until I had gathered enough coins to pay for a Uni Cambridge CELTA teaching certificate. The Big Issue Foundation helped me via the Vendor Support Fund to buy a laptop, which I needed to receive the course material. I completed the course and now I have been given a teaching job in another country, which I will begin next week. I want to explain how truly grateful I am to the Bournemouth Big Issue team for their kindness and support  in helping me achieve my aim to get out of the downward spiral of homelessness."
"Well it just goes to show we are all just two pay cheques away from homelessness. I'll take a copy; keep the change and good luck for your future."
"Thank you and have a good day"
"Good morning, Big Issue? " I shouted
Paul Arthur
Big Issue Vendor
If you like to support our work in helping more vendors move on please make a donation today.