I was born here in England but my family moved to Canada when I was young. I was there for about 30 years, before I moved to London in the mid-'90s.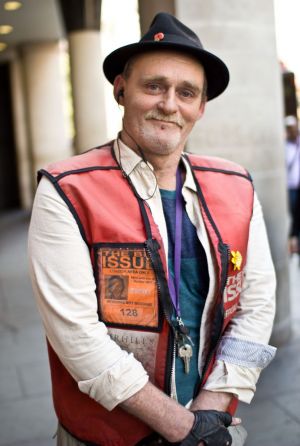 There are a million reasons people become homeless. For me it was quite complicated, one thing after another in quick succession. In a short time I went from having a job and a flat to sleeping in a churchyard and being isolated from family who I was too embarrassed to ask for help.
It seems like a lifetime, but I've been selling The Big Issue for about seven years now. My last place of employment before I became homeless was working for one of the breweries in London, as a drayman, a person who delivers beer to all the pubs in the city.
The main thing is what happened next – I steadily worked myself out of homelessness with the opportunity The Big Issue gave me. I found that as well as putting some money in my pocket, it gave me my self-respect and confidence back.
I was chosen by The Big Issue Foundation for a Corporate Vendor Placement Programme, so I sold the magazine at Simmons & Simmons, the big law firm at Moorgate. It was great to meet new people and to get to know them all. Ever since my placement, my confidence has developed a great deal. I've also spent some time in the company library developing my IT and blogging skills.
After that I got a new pitch inside Liverpool Street station, set up with Network Rail. It's good for footfall; despite the fact it's always busy, I still enjoy chatting to customers. A lot of people are coming into London for the first time, so I find myself giving them directions and suggesting places to go.
Music is one of my great interests. I guess my era was the great rock and roll bands of the 1970s. I was lucky enough to see The Rolling Stones, The Police, Pink Floyd and Led Zeppelin live. I saw Led Zeppelin in Madison Square Garden in 1977. It was incredible – three hours, no intermission. Who else does that? It's the defining memory of my formative years.
I was in bands when I was younger, mostly playing covers. I've usually had one guitar or another – whether acoustic or electric – on the go. I have an acoustic at the moment, it's a relaxing way to pass the time.
Selling the magazine I have met many wonderful people – some whom I'd consider friends for life, like Keith, Louise, Vicky, Val and Robin. There are too many to name but all my customers are special in each individual way. To others I'd say: stop by and say hello, buy a mag and let's get to know each other a little bit. Have a great Christmas.
For the eighth year running, Simmons & Simmons have participated in our Corporate Vendor Placement programme, where a Big Issue vendor joins the team at Simmons & Simmons' London offices to sell the magazine and participate in a work-shadowing programme to develop skills.
Laura and Simon at Simmons & Simmons said: "Paul is a great ambassador for The Big Issue.  He really embraced his time at Simmons. He is extremely well thought of.  We look forward to seeing him at various events in the future.
"Paul quickly found himself a place within the firm and, in an understated but effective way, brought home many of the issues which vendors face. The queue to buy the magazine demonstrated those in the firm gained from his presence."
The Simmons & Simmons Charitable Foundation also provides funding to allow The Big Issue Foundation to increase the scope of the Corporate Vendor Placement, allowing a greater number of vendors to participate. The firm continues to support The Big Issue Foundation with operational, corporate legal advice.
You can find Paul on Liverpool Street station pitch daily from 10am to 5pm.