My name is Paul, I've been a Big Issue vendor for about two years now. My usual pitch is in Bristol, at Wine Street and Corn Street. It's a busy area with loads of passers-by because of the market down Corn Street. It's a farmers' market on a Wednesday and a flea market on a Friday and Saturday and it brings a lot more people down the street. The people have been friendly, I consider myself a good people's person who makes friends easily and a good salesman. I've got a lot of regular customers.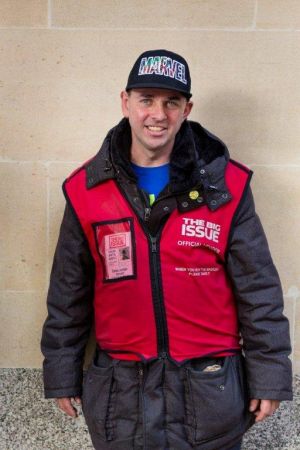 I'm from the Midlands originally. I'd been working in a factory there but I was made redundant and joint with some personal problems became homeless not long after that. Before I came to Bristol, I had travelled to Brighton the English seaside resort town to get away from it all. I sold the magazine there for about six months but it didn't go as well there as I had hoped.
I was rough sleeping for about a year after I came to Bristol, sleeping in doorways, tunnels, in the park – I've done the lot. There is a lot of homelessness in Bristol, a lot of new faces coming in every day. Eventually I got to a point where I felt like I needed to get my life back on track and thought selling the Big Issue magazine again would allow me to do so. The Big Issue has been good for me because you're earning your own cash, buying your own food and clothes. And it helps me to manage my money. Last winter my boots had worn thin, with the help of the Vendor Savings Scheme, I saved up £110 so I could purchase a pair of sensible, winter boots – this was such a blessing in the cold months whilst I was rough sleeping.
Through The Big Issue Foundation, I accessed the Vendor Support Fund which helped me to get a driving licence so I had some ID to get into the backpackers' hostel. They also helped me open a new bank account because I'd lost all my cards. The backpackers' hostel is okay for now – it's a roof over my head at least. There are a lot of people coming and going and they're very nice, but at the end of the day it's still not a place I can call home.
In May this year I saved up for my contribution to attend an Earn-a-bike workshop ran by The Bristol Bike Project. I worked one-to-one with a bike mechanic for three hours to refurbish a donated bike. I learnt how build a bike from scratch, how to upkeep it and how look after it. The greatest thing about it was that I got to keep the bike after I had earned it.
I had the honour and privilege of being selected as the chosen vendor to sell at the brand new pitch at the heart of the Glastonbury Festival this summer. I was so excited about going, it was my first time there, though I have been to VegFest at Bristol before. It was great, but very muddy, and when the rain came on it made it even more difficult to sell. Luckily, there was some sunshine as well though! I sold 150 magazines between Thursday evening and Sunday lunchtime, which was really good going. Normally it would take me about a week and a half to sell that many so it was really worthwhile. I was staying on the campsite but I didn't sleep much more than about an hour a night because there was so much going on. And because I went out dancing with The Big Issue people! So it was tiring but worth it. Glastonbury was a once-in-a-lifetime opportunity for me and I'm so grateful that I got the chance to go.
In August during Aspirations week, a week dedicated to encouraging Big Issue vendors to think about their personal long-terms goals; The Big Issue Foundation took me and 2 other vendors to volunteer at Windmill City Farm. I enjoyed it so much, I signed up to be a Gardening volunteer. I go there every Tuesday to help maintain the outdoor space, grow food, and farm. It's really good for my mental wellbeing and I get to meet loads of different people.
This Christmas, once again through the Vendor Support Fund, funded by donors like you, I will be going back to Leicester to spend Christmas with my family for the 1st time in over 2 years. I haven't been in contact with them for a while now but I'm really excited and eagerly looking forward to spending some time with them all.
All this has been made possible through your support, so thank you, I am eternally grateful.
Martha Luke, Service Broker, on Vendor Paul
I started here about a year and a half ago, this is when I first met Paul. It was obvious to me he was in the right place in his life where he wanted to start making some real positive changes. Our first step was ID, we got a birth certificate and then a provisional driving license using the Vendor Support Fund so he could start sleeping in backpacker's hostels in the city rather than outside which was having a real detrimental effect on his health. We have also registered him with the local GP so he can access mainstream health care. Paul has always been a good seller but he needed somewhere safe to put his money, using the ID we had got him we were able to reactivate a bank account that he hadn't accessed in over two years, we did this just in time for Glastonbury! Paul is now volunteering at Windmill Hill City farm after we took a group of vendors there during a themed week for an afternoon of volunteering. He is now an ongoing gardening volunteer which is really great for his employability and more importantly wellbeing. Housing wise we are still working hard to get him somewhere to call his own, he is linked with the St Mungo's PAL workers who are helping him look for somewhere to rent and supporting him into independent living. I really believe with all the hard work Paul has put in and the progress we have seen it won't be long until he gets this. I have really enjoyed working with Paul and I am so excited for him to be going home this Xmas to spend it with his family.
Help us today! 
A gift from you today will enable us to help more Big Issue Vendors, like Paul this winter