Only look down on those you help up
I need to find somewhere to sleep, safe for the night. No money, no bedding, only the pavement. These were the thoughts going through my mind, as I watched the darkness loom, in the knowledge that tonight would be no different than the previous nights. Only cold, damp, depressing, dangerous.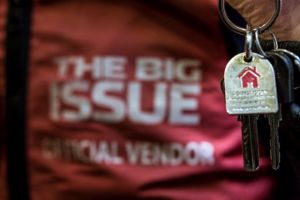 I had been to the night shelter, who had informed me that there weren't any beds available.  What could I do?
The welfare net, which society throws out to catch those who are vulnerable, couldn't stop me from hitting the pavement. The system, at least for a few months, didn't allow me to claim any benefits. In the meantime, I had to find the way.
One morning I happened to be walking past a vendor selling a magazine. I asked him if I could do the same, and he guided me in the direction of the Bournemouth Big Issue office.
Kirsten invited me to sit down, and spoke to me about selling the magazine on the street. Within a short time, I was being shown a training pitch by Liam, where I could attempt to sell.
Succeed I did, and being out everyday making an income and being proactive, helped me to regain my lost confidence.
Self esteem is the most difficult to re-ignite when you have fallen through the net. However the Big Issue personnel are always there to morally support their vendors.
This in turn allowed me to consider my next step, and when I approached Liam about studying towards a teaching certificate, he readily explained how the Big Issue Foundation support those vendors who have the will to try to further their own personal ambitions. The Big Issue Foundation found the funds to assist me in buying a second hand laptop, which I needed to complete my studies.
Success can be addictive, which led me to studying a full time University degree, and I am now entering the last phase of my first year. However being a full time student also means living on a meagre allowance, but the Big Issue Foundation allows me to sell the magazine during the spring break holidays, thus supplementing a very low income.
This continuing support, which I have received from the Bournemouth Big Issue office, is why I have decided on 29 May 2015 to walk the South West Coastal Path of over 1000km, and a planned two months.
Now that I have received a hand up and not a hand out, it's time for me to assist the organisation that helped me.
I earnestly request others to support the Big Issue Foundation in this challenging and gruelling endurance. Thus giving to others who have fallen through the welfare safety net, the possibility to redeem and advance themselves.