What we do is not rocket science. We help people right when they need it, often with simple grants through our Vendor Support Fund. These grants can make a big impact on the lives of our vendors, offering that small hand up to those in need. It is your generous gifts that allow us to provide this Vendor Support Fund that enables vendors like Peter to move on with their lives…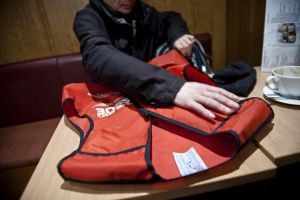 Peter used to sell the Big Issue when it first launched in 1991. The confidence and skills he developed whilst selling the Big Issue enabled him to secure a place training as a bus driver. Sadly a series of life events resulted in Peter rough sleeping and selling the Big Issue again in 2016. His past experience of selling the magazine as well as his work as a bus driver meant he knew how to talk to customers and how to handle money. He soon saved enough money for a room which he moved into early last year.
Having settled into his new accommodation, Peter started looking into the future and set to work exploring his employment options. He started searching and applying for jobs but found that he didn't have the smart clothes needed to attend interviews. The Big Issue Foundation suggested that he apply for some funding through the Vendor Support Fund to help him get back on his feet. The Big Issue Foundation's Vendor Support Fund enabled Peter to access funds for a shirt, trousers and a pair of smart shoes in preparation for his interviews. Donning his new clothes, Peter started to attend interviews and last Spring once again secured work as a bus driver. He has really enjoyed being back on the road and returning to his old career.
We join with Peter in thanking you for this amazing support.
The Vendor Support Fund
The Big Issue Foundation is not funded by magazine sales and 98% of our work is funded through voluntary donations. It is only because of the generosity, commitment and belief of our supporters that we are able to do our work, which is to connect vendors with the specialist services and personal solutions that enable them to rebuild their lives.
Your generous gifts allow us to provide a Vendor Support Fund, which vendors throughout the UK are eligible to apply for. Like the Big Issue magazine's business model of self-help, vendors save and contribute up to 50% (20% minimum) towards the cost of the item required. The Big Issue Foundation, through our donated funds, then provide the remaining balance to help vendors increase their employment related skills, improve their financial management or improve their opportunities to engage fully with society.
You can help support our work further by donating to the work of The Big Issue Foundation here.