Richard sells the Big Issue in Birchington-On-Sea and has decided to fundraise for The Big Issue Foundation by growing a beard for the charity. Richard decided to do this activity to give something back to The Big Issue Foundation.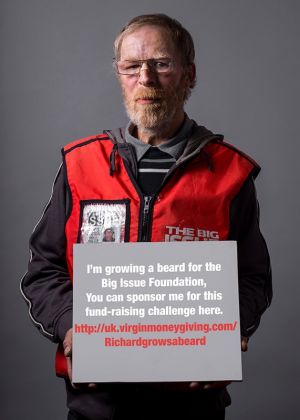 "If I hadn't  got involved in The Big Issue when I did, I wouldn't be here now'.
Richard really enjoys running his micro business and has previously had support from The Big Issue Foundation's Vendor Support Fund, which allowed him to do a college course in counselling.
"I grew up in London. But I grew up in care, in and out of foster homes in the city, so it wasn't really home at all. I always promised myself I'd go and live by the seaside one day. And here I am on the Kent coast. I sell in Birchington-on-Sea a lot of the time, and I also sell in Westgate-on-Sea. And I live in between, in a little house in Margate.
I have a roof over my head again after many years of homelessness. It's taken a bit of getting used to and I spent a lot of time in temporary accommodation and sofa surfing.
I ran into a lot of problems when I split up with my partner. I got depressed and down because there was no support to turn to and I felt no one was listening. I really hit rock bottom with my drinking then. When you lose your pride it can be real struggle.
Selling the magazine here in Birchington gave me a sense of purpose again. It gave me my pride back. All my customers said they noticed a huge difference in my confidence, considering what I was like when I started.
I've done talks in the secondary schools, explaining the work of The Big Issue and trying to boost positive perceptions.
I wanted to give something back, so I decided to do some fundraising for The Big Issue Foundation, the arm of the organization that supports vendors. Since the start of April I've been growing a beard and asking people to sponsor me. Richard has been extremely grateful with the response he has received from supporters so far, including a letter he received from a kind reader who was taken with his story gave him a cheque for £100 along with a lovely hand written card.
You can sponsor Richard for his fundraising challenge here: http://uk.virginmoneygiving.com/Richardgrowsabeard