Bristol vendor Robin, saw his sales skyrocket after investing £30 on a contactless card payment reader and the story of his ingenuity has reached more than 230 million people.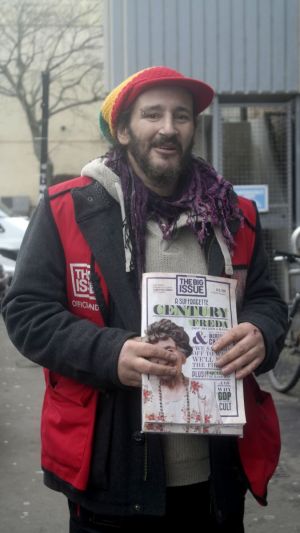 Robin completed numerous TV and radio interviews with aplomb; and sparked other vendors to became interested too.
Earlier this year he told The Big Issue:
"Just before Christmas I invested in a credit card reader, which paid for itself after the first day. I reckon since then I've sold about 200 extra issues by having that on me, although I have to hold it on top of my issues so people can see that I have it. I think I'm the only vendor in the area who has one, which gives me a bit of an edge over the others.
I'm originally from Harrow in north-west London but I lived for a while in Germany with my wife and two kids. Unfortunately, my marriage broke up and I had a bad accident in the mountains where I hurt my leg and started using opiates for the pain. I came back to England, where I was living in squats and sofa-surfing.
During this time I was working now and then as a builder and in painting and decorating, but I had to give that up as my body couldn't take it any more.
Things got even more difficult when, for medical reasons, I had to give up my driving licence. I ended up in Bristol because I started rehab for drug addiction here in 2007, and I settled in the city. I'm really lucky, as I landed on my feet and got a nice housing association flat. I've been selling the magazine on and off for around seven years, with some breaks.
I like my pitch, it's in an affluent area, and the magazine seems especially popular with students from the university. My customers are great. They're really nice people, and I just want to thank all of them. People look out for me – they bring me things like cheese and eggs and offer to get me a drink. It means a lot.
My two children, a boy and a girl, are 27 and 26 now and still live in Germany – I have regular contact with them. I'm really proud of them. My son's a musician, and my daughter's just back from Colombia, where she's been working in international politics. I actually speak fluent German.
I love travelling and sampling other cultures, so in the future I'd like to build myself a house bus and travel around the whole of Europe. I eventually want to live a very independent life completely off the grid, maybe have a farm somewhere like Bulgaria, where property is a lot cheaper.
---
Big Issue Foundation, Service Brokers in Bristol have helped Robin register with a GP and access dental treatment and refer him for specialist financial advice. When his electronic card reader became the focus of much media interest Service Broker Lewis, worked to help him manage that and accompanied him to an interview for ITV news.
Simon Mott was Britain's first Big Issue vendor in 2013 to adopt cashless technology, and now many vendors like Robin, Paul and more recently London vendor George, have started follow in his footsteps.