I have been selling The Big Issue in Muswell Hill for about seven years. There are a lot of nice people around here and it has a nice villagey feeling. I get all the gossip and I am a bit of a social worker too.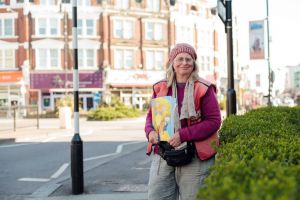 This year I decided to get involved in The Big Knitathon, and I've been spreading the word on a website I use called Ravelry.
My partner also sells The Big Issue in Muswell Hill now. People like the fact that we are partners. It took them a while to find out but it gives them a kick to know it doesn't matter which one of us they buy off as it all goes in the same pot.
We met through The Big Issue. John was my vendor. I used to buy the magazine from him in Cambridge. I used to cry on his shoulder and we started dating. My daughter has mental health issues, and my son died suddenly in an accident in 1999 when he was 17.
I had terrible troubles with the benefits system. I couldn't afford to pay for my place. They were hassling me to go out to work but I was a single parent with a mentally ill daughter, so I couldn't have a full-time job. I needed something I could do when my life allowed it.
John said to me, "We need to get you badged up" and I started selling The Big Issue. He stood by me. It's a lot for a bloke to take on. We moved to London in 2000 and have a one-bedroom housing association flat in Holloway. It is nice to come up here to sell. We have Highgate Woods and Ally Pally nearby.
I have Asperger's, which wasn't diagnosed for a long time. When I started selling I couldn't look anybody in the eye. The Big Issue changed my life. It gave me confidence I never had growing up. John and I had a week in Weymouth last summer and people rang the office to check we were all right. It feels so nice to be part of the community.
It's also helped my confidence in getting involved with The Big Knitathon, and that's why I wanted to help The Big Issue Foundation this year.
I design knitting patterns and have done a few commissions for my customers. I knit for pleasure and enjoy using the website Ravelry to share them.