In her own powerful words, Sam, one of our most successful Big Issue franchisees, describes her journey away from the streets.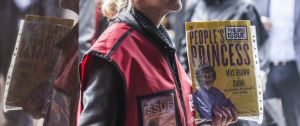 My name is Sam and I work now as a franchisee for the Big Issue in Covent Garden. This basically means I look after all the vendors in Covent Garden and sell them their magazines. My situation a few years ago though, when the Big Issue first came
across me, was very different. I never thought that homelessness would happen to me. I had a good job with a local authority working as an unqualified social worker. I was also going to University to get my social work qualification. I found Uni very stressful and got caught up in the whole drinking culture there. One night, someone introduced me to crack cocaine and that's when it all started to go wrong. I started off just taking it at weekends, but soon I was smoking it every day. It goes without saying that this began impacting on my life at home and on my ability to bring the money in to support my children. Within 12 months I was sleeping rough on The Strand and begging money for drugs. I was just existing day-to-day to get the money for crack.
There were many homeless organisations working in Covent Garden to help the homeless, but all they were doing was helping me to stay where I was. They came round every night with hot food – so I didn't have to take anything out of my drug money to buy it myself! And they kept me provided with clothes and a sleeping bag so I was sorted out for that while I slept there on the pavement.
The day it all changed
One night an outreach worker from The Big Issue stopped to talk to me.
He told me they weren't offering me freebies, so of course I wasn't interested. In fact, quite the opposite – they wanted me to go to work!
The outreach worker persevered though and after two weeks of constant visits I gave in and went to the Big Issue office.
The day I started selling the magazine was the first day of the rest of my life. I now had a reason to get up in the morning.
They helped me to find accommodation, helped refer me to agencies to sort out the other parts of my life and just a year ago they offered me a job. If I had stayed on the
streets I'm sure I would have been dead by now.
There are many charities around that hand out soup and sandwiches, clothes and sleeping bags. But only The Big Issue will give you a structured life and your self-respect back. It's been nearly 10 years now and I'm proud and happy to say that I have a loving, close relationship with all 5 of my children and my 2 adorable grandchildren.
The help, employment and support that The Big Issue has continued to give me over the years played a very large part in that process and I can never thank them enough for that.
If you would like to help The Big Issue Foundation do more for people like Sam, please donate today.