I've been selling the magazine here for three years. It's gone really well – it's a nice part of the world. My regular customers have helped me get back on my feet.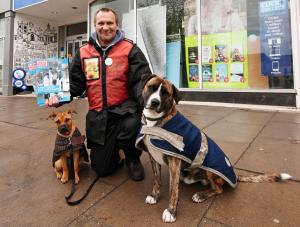 People know Chipping Norton because Jeremy Clarkson and the guy from Blur live here. I haven't met them but I have met the Prime Minister, David Cameron. He was out campaigning one day during the last election. He walked past me with a big bunch of people. I shouted to him and asked him to sign one of my magazines. And he did – he came over, said hello and signed one. 'Best wishes, David Cameron.' I've kept that copy.
There's a good bunch of people here. Everyone in the village loves my dogs Menace and Sweep. Menace is a mastiff cross-Staff and I gave him that name because he was always tearing around, full of beans. He was a handful but in a good way – a very good-natured dog.
Menace is Sweep's daughter. Everyone thought she was lovely as a pup but she's getting quite big now. I called her Sweep because a pal of mine noticed she looked like the kids' TV puppet.""
There's nothing I like better than going on a long walk with my dogs. There's no shortage of good walks in the Cotswolds. I came to this part of the world in 2002. I came to Oxford and I was really down on my luck. I slept rough on the streets there for quite a long time. I liked the city but I didn't like staying in the hostels. I slept in a tent there for about six months.
When I came to Chipping Norton my luck turned. I got a place to stay in a caravan. And selling the magazine put some money in my pocket and helped me get things in perspective. Recently I found a little flat to live in. I'm very happy with it, though it's taken a while to get on top of bills and adjust to finally having a roof over my head again.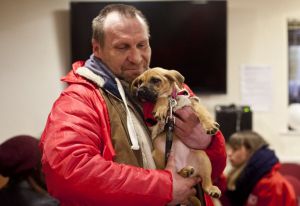 I was really grateful for the help I got from The Big Issue Foundation, so I took part in the Night Walk. A big group of supporters walk through London – a chance for them to talk to some vendors and find out more about homelessness. It was good fun and I hope people learned something.
I've moved around a bit but I've finally found somewhere where things have clicked. I'm very happy where I am.
Sean is on his pitch, outside WHSmith from 8.30am until 2pm, Mondays to Fridays. Sean loved to travel to London to take part in TBIF events and last year took part in both The Big Sleep Out and Big Night Walk, along with his new puppy Menace.
Story by Adam Forrest