Growing up in Horsham I came from a good background, worked my way through school and continued on to college to study Computer Programming. At the age of 18 I wanted to explore what was out there for me so I moved to London to go to University. Things didn't quite work out how I had planned and I ended up living in a squat, studying under candle light, with 4 coats on.  I dropped out of university and went to work as an Office Manager at W H Smith for 6 years.  A few years later my grandmother  passed away and I moved back to Worthing to be closer to my mum. Here I started working in Retail Management at a Garden Centre for 2 years, living in a caravan with my partner. Unfortunately this wasn't to last long and I was made redundant after 2 years.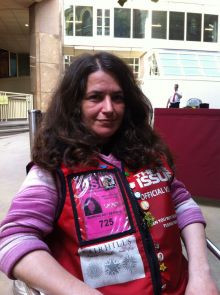 Being made redundant meant that I couldn't pay my rent or live even. I began to fall into arrears with my rent and as my landlord didn't accept housing benefit I had to sell my car to pay what I owed and move out.
My partner and I decided to move back to London with the belief that there will be better prospects there for us but it didn't work out as planned.
For a while I spent time looking for work but as I had no fixed address employers were very reluctant to give me a job. Spending my last pennies getting to interviews was beginning to take its toll as I wasn't successful at any of these jobs. Eventually I signed off from the job centre. Taking up little jobs here and there such as gardening to try and make ends meet but work began to dry up.
Ending up homeless once again, I was offered accommodation for me and my partner by a lady in the form of a summer house in her garden of where I am still living with my partner and two cats. It hasn't been an easy ride, as for the past 5 years my partner has been very unwell undergoing 5 operations.
Disheartened and a little fed up of the way things were going, I began reading books everyday on London Bridge, to try and escape reality. Here I began to build up a fan base from people that worked within the area and saw me everyday. They began bringing me breakfast, clothes and other little things but eventually I was moved on by the police as it was deemed as begging.
I began looking after a friend who was severely disabled, but soon after I met someone who was a Big Issue Vendor who told me about The Big Issue Foundation and what being a vendor entails. I was a bit apprehensive at first as I knew I had responsibilities such as my partner and my disabled friend. Who would look after my friend who relies on my help whilst I do the training. But it seemed that other people wanted to help me. An African Church reached out to me and offering their help, they pushed me to do my Big Issue Vendor training, whilst looking after my disabled friend. It truly was a blessing in disguise.
I got through my training and it was a very big eye opener for me as I was unaware myself of what the Big Issue was about. Once I had completed it all it was time to sort out my pitch and get selling. As there was no previous pitch at London Bridge, the Outreach team helped me find a spot in a location that was familiar to me. The pitch at London Bridge Walk was shared by myself and a gentlemen called John with each of us at either end.
I began selling up to 100 magazines a week but as time went on I began to see that factors out of my control such as weather, holidays and the recession were all having an adverse affect on my sales. I saw my sales drop to 50/60 magazines a week.
A lot of people are not aware that vendors are self employed. Magazines are purchased with our last pennies if magazines aren't sold we might not have a meal tonight. So come rain or shine myself and other vendors will be out selling magazines, we can't afford to have days off. The more you stand there, the more people see you, the more magazines are sold. DEDICATION! No-one but a Big Issue vendor will understand how much hours, money and effort are put in to selling The Big Issue.
As customers are so unaware of what The Big Issue and it's vendors are about, I thought it would be a good idea if I get a white board for my pitch, maybe showing a tally of how much magazine I have sold , information about sole traders, myself and what I do and show my appreciation to my customers. Hopefully this will change people's perception on homelessness and people who are homeless.
Along with the high's there are also lows. I had my bike stolen earlier this year which was absolutely devastating for me as I have responsibilities. So for someone like myself, who has minimal money getting on a bus everyday to look after my friend was not an option. Understanding my situation, one of my regular customers decided to help by giving £250 to buy myself a brand new bike and the relevant equipment to go with it. That day I sat in my garden shed crying tears of joy. I just couldn't believe that someone could be so generous and actually want to help me. Regular customer's do recognise my struggle and love to contribute by bringing necessities that I needs such as shoes, shampoo, food, socks, underwear, etc. on a daily basis.
Trying to involve myself more in The Big Issue, I was asked to write an article for Answers From The Big Issue. I was very chuffed on this but as I haven't done anything like this for a while it took me nearly a week to finish the article. All my efforts paid off as the feedback that I received from it was very positive. I thought it would be a good idea to give customers a read of my article with the magazine and it seemed they were all surprised at my intelligence and capabilities, which just goes to show that they don't really know much about the backgrounds of people who are homeless.
The Big Issue has truly changed my life; it has given me hope that there is a better future for myself and my partner. I would like to say a massive thank you to all my supporters, past and present for all your supportive words, cards, kindness and generosity over the years, especially David.
If you like to support our work in helping more vendors move on please make a donation today.